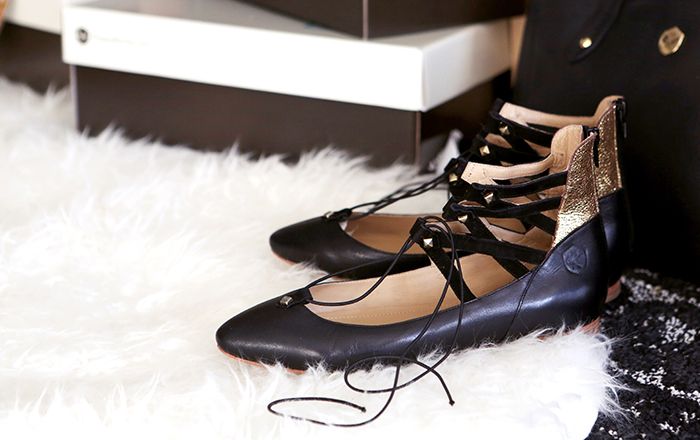 Photos Credit: Poppy Barley
Pretty much every woman has dreamt of a closet full of custom-made footwear, but the idea of trying to find a cobbler that can offer style, comfort and quality could give anyone nightmares. Thankfully this is 2015 and the internet is here to solve all our sartorial problems. Canadian brand Poppy Barley has taken traditional shoemaking and turned it on its head, making it a luxury that is easily accessible for anyone with a laptop or iPhone. With quality materials, well-trained artisans and an eye for fashion, the company has created an online destination where men and women can shop for tailor-made footwear with the click of a mouse.
Poppy Barley was founded by sisters Justine and Kendall Barber who wanted to start a company that would offer shoppers the best in luxury footwear, but do so with a transparent and ethical manufacturing processes. Designed in León, Mexico, the self-professed shoe capital of the world, each pair of footwear is handcrafted by local artisans who work for fair wages and in safe factory conditions. (The brand even posts annual salaries, weekly hours and vacation time on their site.) The city houses 3,394 shoe manufacturers 388 leather goods manufacturers, 300 suppliers and 696 tanneries, all within 22 miles of the Poppy Barley factory so everything is sourced locally and each piece of the shoe is made by trained artisans.
Poppy Barley custom-designs all of their footwear for the best size and fit. Shoppers can easily take measurements at home—the site has a full page of video tutorials to help you find the correct size—and order shoes that will be tailored to them. The shoe's size, calf width, foot width and even boot height can all be adjusted for a perfect fit. Frequent shoe shoppers can also save all those measurements at Poppy Barley, so multiple styles can be added to your cart without re-measuring. And if for some reason your order arrives and it doesn't fit like a dream, just let them know and they'll completely remake your shoes for free.
We were curious about how easy the process was from start to finish so we tried a pair of Poppy Barley boots to experience it for ourselves. Armed with a fabric tape measure and a series of YouTube videos, I spent about five minutes checking (and double checking!) all my measurements and entered them on the site. They give you the option of selecting additional customization, but I opted to adjust only the basic measurements—a mistake if you're six feet tall and mostly leg. Aside from my boot shaft height being a little shorter than expected, the shoes fit surprisingly well. They hugged my calf beautifully (most boot shafts are too large for me) and were extraordinarily comfortable. Needless to say, these boots will remain a permanent fixture in my wardrobe for years to come.
Poppy Barley shoes are available online and priced from $188-$425.