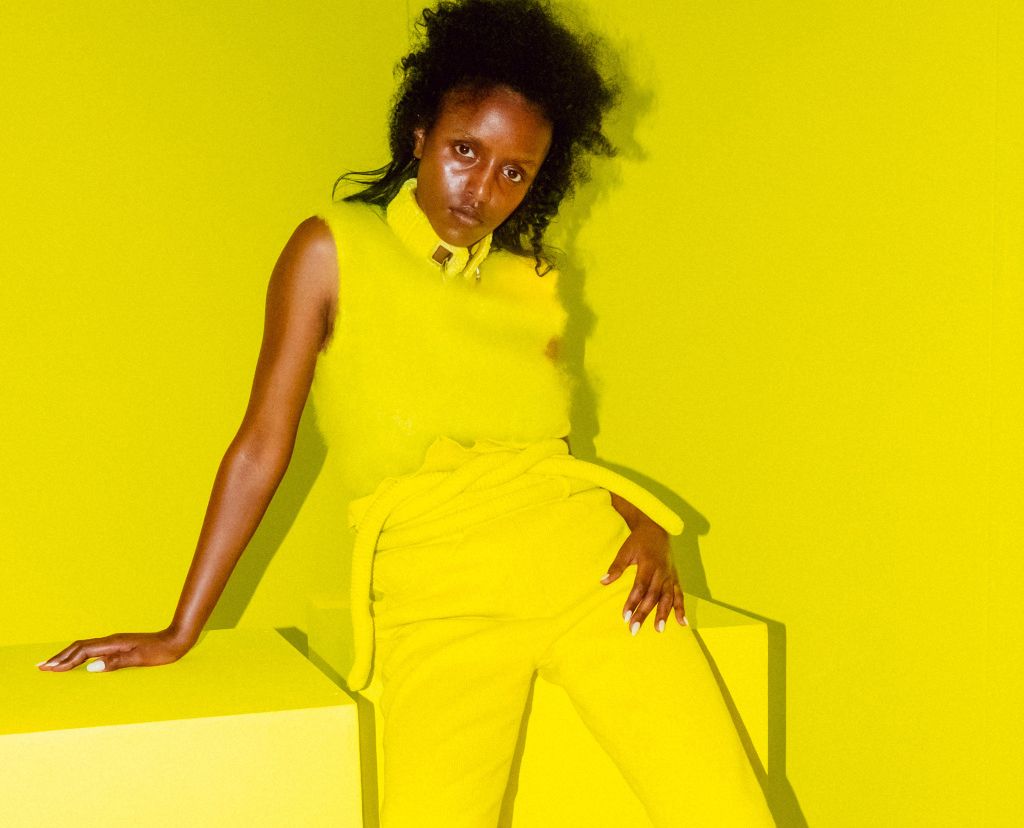 Photos Credit: Faustine Steinmetz
In the fashion industry, where fast battles sustainable, Faustine Steinmetz remains steadfast in her hand-weaving, following up her initial collection of artfully sculpted recycled denim with an equally careful construction of ready-to-wear in eco-friendly cotton, neoprene, and mohair. From her small atelier in East London, the designer creates on a minimal footprint and in doing so, creates upended silhouettes enriched by unexpected textures.
Think classic high-waisted dungarees in furry mohair, with an azure metallic crop top that looks like sheet metal poured from liquid, settled delicately across the décolletage and tied tight. Filled with rivets, rugs, rope and furry, 3D fabric (but always animal-free), her latest collection revealed a range behind the narrow lens of a "peep show" format, which required onlookers to peer in and spy to get a glimpse, while they listened to an audio guide downloaded from a mobile website for the show.
The artful inspiration and collaboration (she worked with set designer Thomas Petherick), and an impetus for just a bit more participation from her audience, further characterizes Steinmetz' thoughtful approach to her work. And work it is—the designer breaks down the arduous labor that goes into her couture-worthy weaving: once each of the 455 warp yarns are individually threaded through the heddles of the loom and the reed, it takes about a day to build the first meter of fabric. Factor in another day for the second half of the weaving, a day for the dye to dry (which depends on the weather), and about a week in total from setting to sewing, and you've got just one pair of exquisitely handcrafted jeans ready to go.
It's this unusual approach, underscored by impeccable skill and fresh vision that qualifies Steinmetz as one of London's emerging designers to watch. Nominated for that very distinction in the womenswear category at the British Fashion Awards this past fall, she has just the start of critical support to help fuel sustainable commercial growth. According to Vogue, Steinmetz has plans to partner with weavers in Senegal to supplement the output by the team in East London, so the steady evolution continues, one thread at a time.