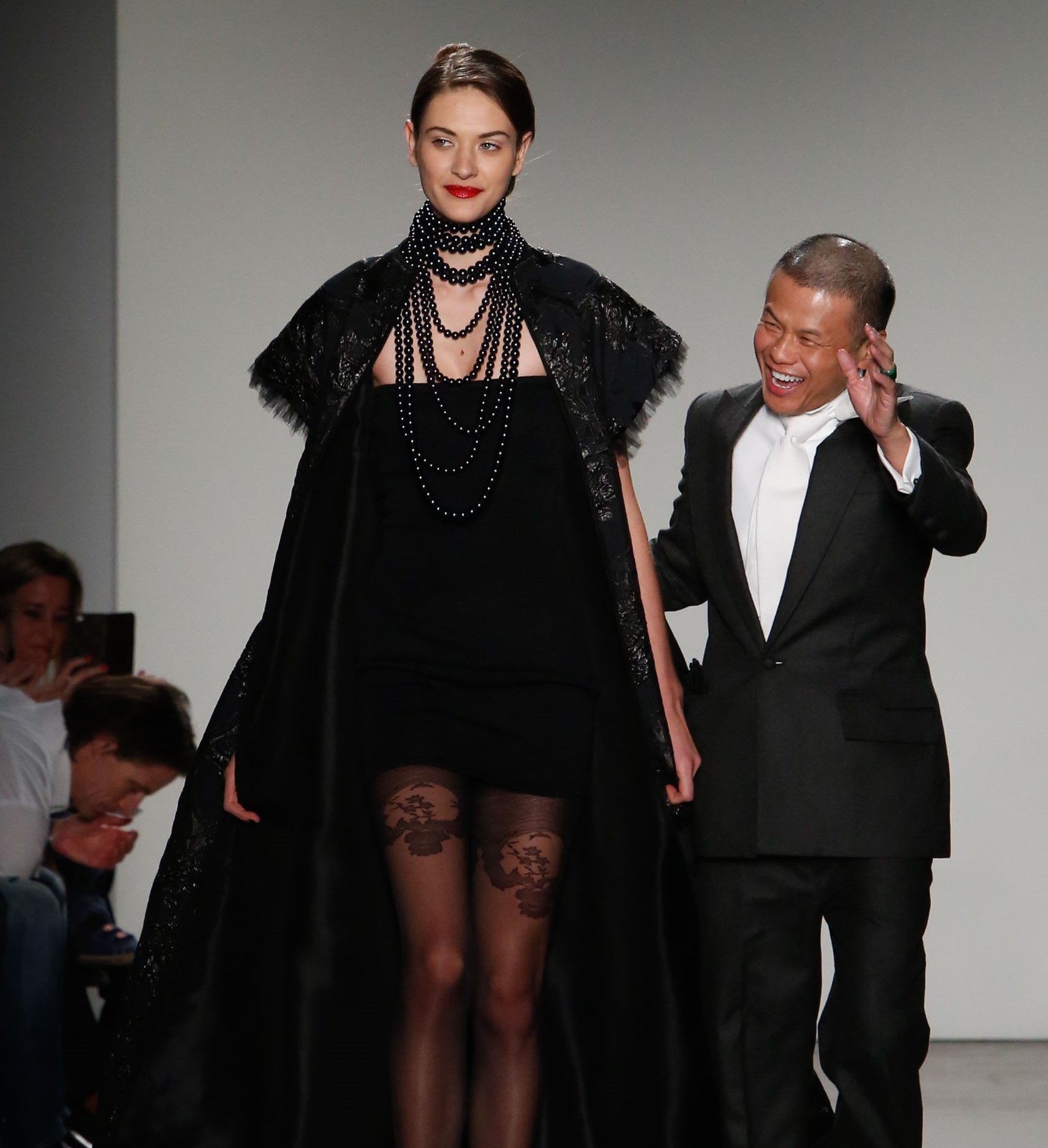 Photo Credit: Lexus
It's not every day (read: never) that a haute couture fashion collection makes its debut at an auto show instead of a fashion week catwalk. But then Malaysian fashion superstar Zang Toi is not your average designer and his unexpected new collaborator, Lexus, is not just another car company. Lexus has long been an official sponsor of New York Fashion Week, MADE New York, Hollywood Beauty Awards, and "Project Runway" so it shouldn't be surprising that the style-conscious brand has made the current 2016/2017 Auto Show Season the best-dressed season yet; Lexus is now showcasing its new four-wheeled models and concept cars alongside two-legged models dressed in a custom couture wardrobe by Toi, the similarly fastidious craftsman behind House of Toi.
The design partnership is a first for both, and makes Lexus the only brand on auto show floors with a wardrobe created and handmade for each brand representative. Featuring four elegant couture looks, the "Zang Toi Collection for Lexus" recently premiereed its press day fashions at the 2017 North American International Auto Show. Items—all of which were custom made in New York—include a hand-loomed knit dress with handmade lace from Lyon, France, and a knit "alphabet" sweater with the Lexus "L" hand beaded and embroidered. The collection will be rounded out with classic styles, such as a sharply cut jacket with contrast grey sleeves and standup lapel accents. Black and charcoal are the collection's anchor colors, with a pop of red and grape for the cocktail and evening pieces. Featured fabrics are Loro Piana silk, linen and wool, couture silk ottoman, and geometric floral silk brocade.
Select pieces were revealed in a surprise fashion show at a private design summit held at the Ritz-Carlton Laguna Niguel near Lexus' own California design headquarters, Calty Design. New York City-based Toi—a star trunk show performer at Saks Fifth Avenue—sat down with JustLuxe for a post-reveal chat.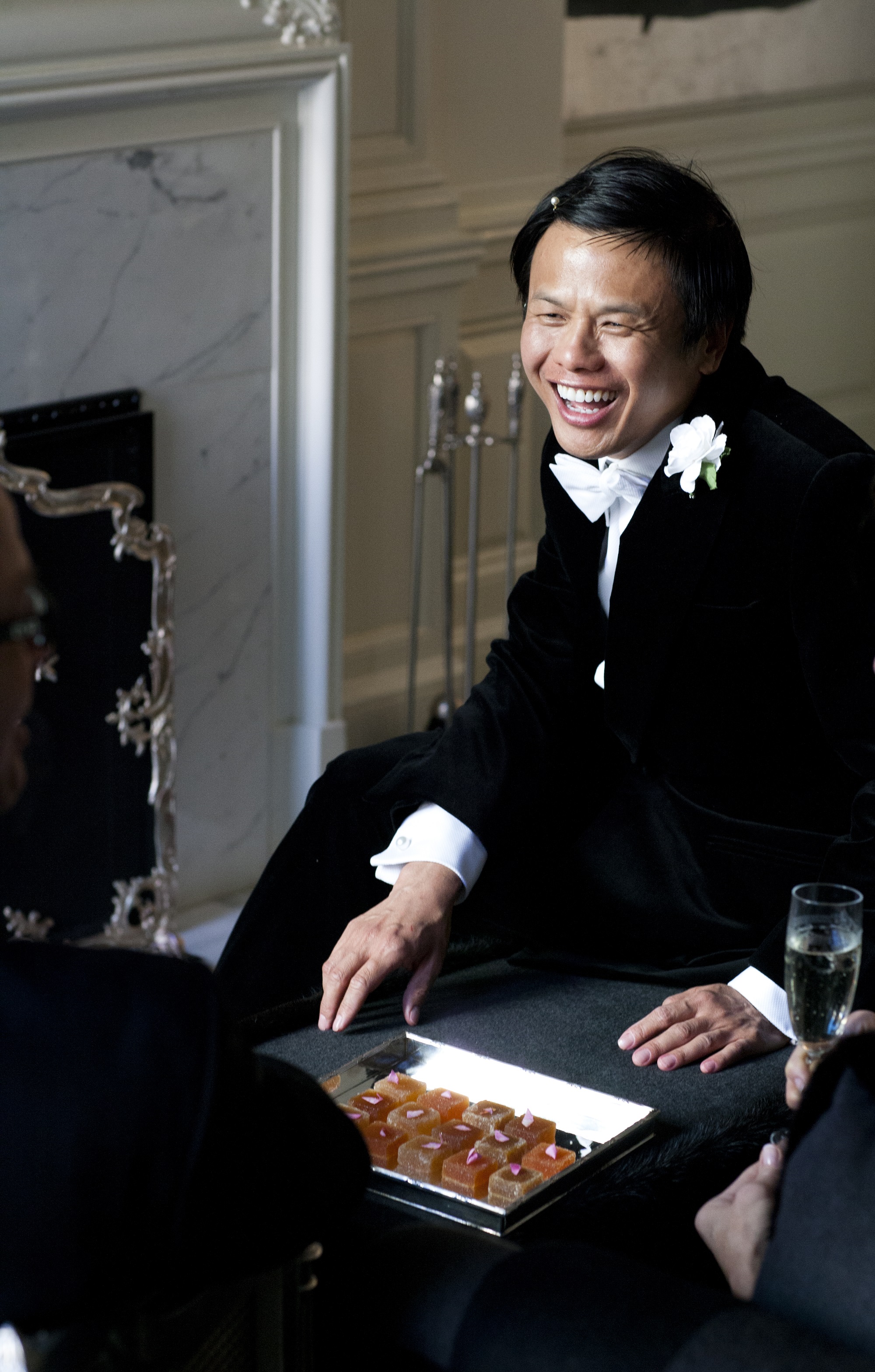 Photo Credit: Zang Toi
Just Luxe: What made you decide to team up with Lexus for this collection?
Zang Toi: The Lexus brand stands for unrivaled luxury and an unrelenting approach to perfection and craftsmanship. I wanted to instill a sense of haute couture that is unique to fashion but is a natural complement to the style and expressiveness already embodied by Lexus vehicles. To have the opportunity to create fashion in a traditionally automotive space was an exhilarating challenge.
JL: What are the hallmarks of your latest fall/winter runway collection?
ZT: It is all about texture this season. I'm using different fabrics and beading technique to achieve this effect. I want to make a bold yet stunning statement.
JL: You travel the world for style inspiration. What inspired your "Courchevel Chic" collection?
ZT: The first thing that comes to mind about Courchevel is Sean Connery and Roger Moore skiing down the slope in the James Bond movies. It was inspired by my trip to the French ski resort, La Chabichou, and the Bond movies my father and brother used to take me to.
JL: Are you always inspired by Hollywood glamor?
ZT: Every season is quite different. Years ago I was inspired by the movie "Murder on the Orient Express" and three years ago I turned to "Doctor Zhivago," a film I always loved, so I decided to go to St. Petersburg, Russia. For the past few years I've been inspired by my traveling to different parts of the world. For my upcoming Spring collection, it's loosely inspired by the famous impressionist painter Monet and the famous Giverny garden in Paris. There was a specific flower in that garden that captivated me.
JL: What is your design process?
ZT: I start with an inspiration board, or a look-board. Once I have an inspiration for a collection, then I start researching different fabrics and textures. From there I pick a destination and go away from everybody, by myself to a specific place to hopefully be inspired. Once I'm there, I sketch the collection. The process from beginning to end takes 10 months.
JL: What are you most proud of?
ZT: Every stitch is done by hand. It takes my top seamstress 10 days to make just one piece. You don't see quality like this anymore. Most design houses glue on things like ostrich feathers, but on my ostrich stole, every piece is hand-stitched. In the cocktail look, the lace is made custom for me from Lake Como. Ladies who know the difference understand the price.
JL: So it's the painstaking details that brings your collection pieces into the price territory of "if you have to ask, you can't afford it."
ZT: I don't want to scare anybody, but yes.
JL: Lexus is your special design partner for this capsule collection. Which Lexus car model do you think is the most stylish, and how would you customize it to suit your personal taste?
ZT: The two-door Lexus RC F luxury sports coupe is so beautiful, so sleek and so sexy. When I first saw it, immediately my mind created a beautiful pant suit for a lady to drive in. But for me personally, I would love to reupholster the entire car interior in chinchilla. Most drivers might not be ready to splurge for that, though. They can go for rabbit fur.