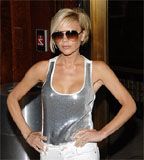 Luxury Fashion:
The queen has landed in America, but we're not talking about Elizabeth here. Celebrity queen Victoria Beckham arrived at New York's Saks Fifth Avenue Thursday amid a flurry of paparazzi and fans to launch her new denim and accessories line dVb.
Sporting a silver sequined tank tucked into her tight white jeans and matching silver Christian Louboutin stilettos, the British bombshell and former Spice Girl caused a frenzy outside the department store's makeshift red carpet. But the chaos didn't stop there; although Beckham wasn't speaking to press, there were still a crush of reporters and on-lookers hoping to catch a glimpse of the platinum topped celeb.
No stranger to fashion and clothing, dVb is Victoria Beckham's new label that features sunglasses and denim pants, skirts and shorts. Working closely with Western Glove Works, all of dVb denim is made from high-quality materials which reflect the price points - dVb jeans, with star emblems on the back pockets, sell for upwards of $250.
Upstairs on Saks' fifth floor contemporary section, throngs of pre-teen, teen and even some older fans of Posh from the 1990s waited patiently to get autographs from the wife of soccer star David Beckham. One could sense her approach as the crowds moved closer to the front, making it difficult for Beckham and her security guard entourage to get to their designated spot.
Beckham, who is slated to move to the US with her family when husband David joins the Los Angeles Galaxy soccer team, has collaborated on numerous occasions on the fashion front. Most recently the mother of two designed a line with Rock and Republic jeans and a line of jewelry and handbags with Samantha Thavasa.
By Jeannette Park
Courtesy of Fashion Wire Daily-June 15, 2007