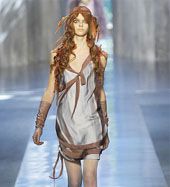 A Fashion Review:
We all have heard of or become familiar with the term "fashion forward," but with a dynamic year of fashion from 2007, many wonder where can it go? Below are six collections from designers that have proved once again the possibilities are endless. Some of them are fresh faces, others undying classics- the differences speak for themselves. What they have in common: their artistic and distinctive points of view that are in fact guaranteed to move fashion forward.
Lanvin SPRING 2008: Paris
Alber Elbaz's spring collection dared to go against the trend of floral and tribal prints and in turn presented a beautiful collection based on solid color. For this, Lanvin was one of the most uplifting shows of the entire season. Elbaz captured color and fluidity with such simplicity and easiness that is as refreshing as a breath of fresh air. Reiterating the principles of goddess dressing with sophisticated draping and pleating, Elbaz is able to capture the true movement of the clothing and the woman that adorns them.
See more Runway Images
Prada SPRING 2008: Milan
Miuccia Prada is always thinking of ways to reinvent the modern woman and harmoniously showcased an ode to 60s Art Nouveau this spring. Gorgeous necklines with choker-like collars and keyhole openings decorated dresses and tunics made from sheer fabrics and cubic prints, which gave a romantic and fairy like mood to the clothing, almost like lustrous watercolor paintings. The mix of knits with chiffon slightly throws off the eye but somehow remains aesthetically pleasing. And if this all seems like a page out of a dream, Prada will continue to captivate the enchanted mind with footwear that is equally as fabulous and fanciful.
See more Runway Images
Proenza Schouler SPRING 2008: New York
From the beginning, Proenza Schouler has been known for its drastic contrasts: a constant play on masculine with feminine, an uptown elegance combined with raw street energy and now the duality of becoming adults and staying young. It has been argued that Lazaro Hernandez and Jack McCollough have been feeling the pressure to grow up since their recent partnership with Valentino Fashion Group, but the duo has once again asserted themselves as designers with an advanced outlook on fashion with a collection that is cohesive and brilliant but most importantly, remains true to the two young designers sense of style.
See more Runway Images
Nina Ricci SPRING 2008: Paris
Olivier Theyskens spring collection for Nina Ricci embodies the sentiment of fairytale meets urban modernism. Theyskens captures a young, fresh take on femininity which he coined as the "Haute Couture Hippie" in this seasons theme. The models looked as though they were returning home from an all-nighter in pieces that were slightly disheveled but nonetheless graceful and stunning. Despite showcasing a collection directed towards a younger generation, the designs remained soft and romantic; something Olivier knows how to do best.
See more Runway Images
BALENCIAGA SPRING 2008: Paris
After Nicolas Ghesqui?re's extreme embroidered "robot" leggings from Spring 2007, Ghesqui?re returned in full bloom this season to the Balenciaga traditions of ensemble dressing and flawlessly articulated structure. The dresses are short and the "ensembles" are perfectly layered with precise attention to detail: short shorts under valance like chemises under jackets all in the same pattern. The collection consists of odd, feminine, yet ultra-modern shapes in florals that are so vibrant, even your garden will be jealous.
See more Runway Images
Oscar de la Renta SPRING 2008: New York
Oscar De la Renta captures pure elegance and proves once again his mastery of fabric and the female form in this season's spring collection. De la Renta visits the emerging trends and themes of tribal patterns and safari inspired pieces but is able to preserve his heightened sense of sophistication and timelessness which makes the collection classic and chic. Dresses and evening wear remain De la Renta's forte and gladly reminds us why the female form is so spectacular.
See more Runway Images
By Natalie Zufelt
JustLuxe Contributor