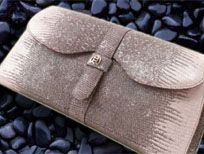 Exotic Bags:
The true art of couture products is a luxury that is often overlooked and hard to find. However, designer Beatrice Amblard has been able to capture the essence of handmade and customized products for her
San Francisco
-based line, April in
Paris
.
Beatrice's desire to be a leather artisan began in her native town of Paris at the tender of age of fifteen. After working for world-renowned purveyor of luxury goods, Hermes, for many years, first in Paris and then in San Francisco, Beatrice opened her own boutique, April in Paris, in 2000. Using the skills she learned at Hermes, Beatrice has made April in Paris not only a favorite boutique for luxury lovers, but also her workshop, where she meticulously and lovingly crafts her leather-goods. Depending on the design, it takes anywhere from 40 to 80 hours to make a handbag or briefcase. You are also able to custom order the material, which is very rare in the fashion industry. Some of the exotic leathers that can be used include: French calf, alligator, ostrich, lizard and stingray, all of which are tanned in France.
Beatrice and her company are trying to bring the art of "hand-made craftsmanship, back into the luxury realm, and give that special one-on-one customer service that luxury good companies seem to be lacking now-a-days.
What sets Beatrice apart from other artisans is the amount of client involvement. The client is able to be one-hundred percent involved in the process. They can talk to Beatrice herself and discuss ideas together. Essentially they are involved from start to finish.
When asked why handmade, is superior to factory made, Beatrice had quite the informative answer:

"hand stitching offers a much sturdier bag than those that are machine stitched. When hand stitching, each stitch is effectively knotted, guaranteeing that if one stitch were to become loose, all of the other stitches would continue to hold. Not true with machine stitching. Should a stitch come lose on a machine-stitched bag, it often causes a cascade effect that tears the other stitches apart fairly easily. In addition, April in Paris uses a heavier thread on their bags, contributing to their durability. Each bag is also hand finished with a seven-step process treating its edges. This process ensures the edges are soft and durable, protecting the stitching from possible separation while offering a beautiful finish to each bag's design."
When considering features for your bag, Beatrice says, "Structure is a must for durability, a shoulder strap for practicality and inside pockets absolutely. I tend to design bags that have simple lines, because I think that esthetically speaking, it is pleasing. I don't like busy, or too soft. As far as handbags are concerned, I think that each client should have a different look for handbags and I don't really favor special features overall."

With so many "It" bags populating designer boutiques, it is harder than ever to find something unique, one-of-a-kind, and luxurious all at the same time. Don't fret, because at April in Paris you will always see exclusive and exceptional pieces.

"I never follow trends because custom is timeless. I don't create "IT" bags of the season, I create "The bag" that lasts a lifetime," says Beatrice.

Some of Beatrice's favorite and most innovative pieces are the signature "Bea" bag which is classic and versatile. The Bea is also specially designed to have a flat back so it's comfortable for the wearer. The Reno clutch is another big favorite. It's sophisticated and fun and most clients normally choose bright colors for this little gem.

For more information on April in Paris, or to begin customizing your newest addition please feel free to contact April in Paris


For LxM Danika Quinones
See April in Paris featured in LuxeMall