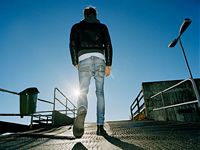 Luxury Blue Jeans:
Since buying luxury blue jeans is a favorite form of self-indulgence for many gentlemen these days, we felt a short review on a few high-end denim makers would be a good fit. While fashion designers attach colorful names to their wares, such as Roadie, or Gringo, Barracuda, or Wayfarer, the styles are straight-leg, boot-cut, full-leg, and relaxed fit styles with either a button-down or a zipper fly. The classic styles have pretty much remained the same.
If the first pair of blue jeans rolled out in 1850 and cost $1.50, are today's finest denim trousers really that expensive? Craftsmanship, fit, and cut of the cloth are features of premium dungarees that set those apart from run-of-the-mill denim trousers. Much of the cotton used to produce the finest jeans is milled in Japan, Italy, and the United States.
Birth of the "Blues"
The 1950s was a decade of progress and change socially, economically, and culturally. The decade that brought us Sputnik, Elvis, Johnny Cash, and the first Corvette also is the era when blue jeans transformed from the pants of the workingman to the wildly popular casual slacks of the people. The addition of the revolutionary stonewashing process to the manufacturing of denim changed everything forever. Stonewashing the denim made the material dramatically softer. Blue jeans were now both comfortable and durable. It was an irresistible value consumers could not resist. Demand for the sturdy pants with copper rivets and rugged stitching has never stopped growing.
Rebels with or without a cause -- boys and girls alike -- began wearing blue jeans to express themselves politically and fashionably. It is a fashion phenomenon that just may be perpetual, as it is hard to imagine blue jeans ever being out of style.
While many fashionable styles have come, went, and then returned, blue jeans just seem to go on and on.
Online ... Off the Rack & Off the Hook!
A pair of well-made blue jeans is a fashion statement and a status symbol rolled into one article of clothing. Be practical. Keep in mind that a pair of blue jeans is appropriate attire for many situations -- including washing the car and mowing the lawn. Here are a few sources for the denims generally not worn under such circumstances!
Earnest Sewn Company features rigid denims milled in Japan, Italy, and the U.S. in classic styles. Six styles of blue jeans are available to order online at
www.earnestsewn.com
.
Agave Jean offers styles for guys and gals. All jeans are handmade in California. There are six styles for men. Many of Agave's jeans are presented in different texture compositions. Denim from Japan and the U.S. is used in making a pair by Agave. Visit at
www.agavejean.com
.
Nudie Jeans recently opened its online store. The company bares more than 10 distinct models. See the beauty of Nudie's at
www.nudiejeans.com
. Tsubi Jeans are considered the finest blue jeans made in Australia. The well-made blue jeans are available online at
www.Ksubi.com
.
Stone Island Denim has a broad collection of classically cut blue jeans in black, white, and blue. The company also offers an array of complementing accessories and other clothing made from Japanese cotton. Drop in for look-see at
www.stoneisland.com
.
For LxM James Rothaar