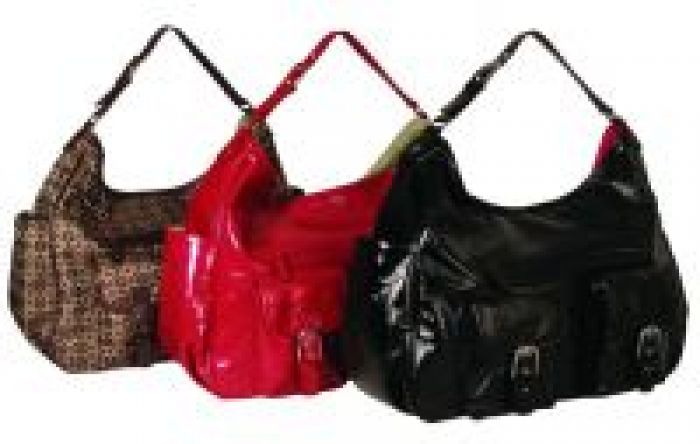 Fashion & Style:
With two kids of my own and a decidedly stylish momtourage, I've seen my fair share of baby bags. However, few have been quite as chic and smart as those by
Amy Michelle
, which has entrenched itself as "the go to bag" for active mom's who don't want to sacrifice fashion for function. And with good reason. Amy Michelle designs trendy diaper bags that transition seamlessly from home to daycare to work to a night out on the town without a hitch.
Two of my favorite Amy Michelle bags come from the company's "Street" and "Chic" lines - particularly since they provide an opportunity for both Mom and Dad to each have a stylish bag of their own ready to go.
For Her:
Amy Michelle's Sweet Pea Slouch Tote ($135), part of the company's Chic line, is a decidedly sassy bag for true fashionistas with or without the little one in tow. With a single shoulder strap, silver hardware and lively color options of chocolate jacquard, black patent and red patent, the bag also offers a washable changing pad, internal and external bottle pockets, a quick release pacifier holder, compartments for diapers, wipes and bottles, and a convenient stroller attachment. A separate section for Mom includes a space for a wallet with built in credit card slots, a zippered pocket for various essentials and an easy-to-find key ring.
For Him:
Among Amy Michelle's Street line is the Madison Avenue Tote ($55) - a compact shoulder bag that converts to a back-pack. Available in an array of solid masculine colors, including chocolate brown, black, navy and charcoal, this bag will assure Dad is confident rather than self conscious while out and about with baby. This bag also features Amy Michelle's trademark sections for both parent and child, including a sizable, readily accessible front compartment for Dad's cell phone, day planner and other personal effects.
If you're looking for a baby shower gift with that coveted "wow" factor that also uniquely takes Dad into consideration, Amy Michelle's fun, functional and elegant bags for both her
and
him will be a resounding crowd pleaser.
Amy Michelle products are sold at specialty baby boutiques and select Internet sites including
www.AmyMichelleBags.com
.
The Luxe List product review editor Merilee Kern scours the luxury goods marketplace for new and innovative must haves. Product submissions accepted via e-mail at Merilee@JustLuxe.com.
- Merilee Kern
JustLuxé.com's "The Luxe List" Product Review Editor