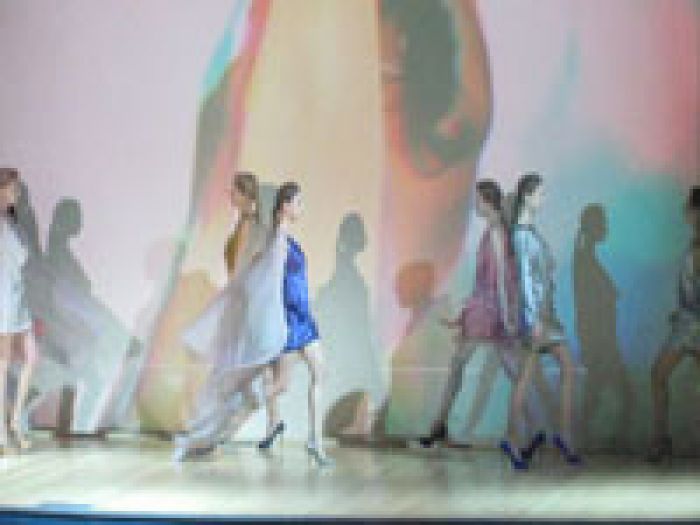 Fashion & Style:
It's no secret that Russia is an important consumer of fashion. The country ranks high on the list of emerging markets, which means luxury brands have descended upon Moscow in droves over the last five years. And yet, despite this focus, notable Russian designers have remained elusive to an international audience, for reasons beyond the difficulty of their tongue-tying brand names. We travelled to Moscow last week to report from Russian Fashion Week (RFW), the country's premiere showcase for local emerging and established talents, to see what Russian designers have to offer-and how prepared the world is for them.
Aleksandr Shumsky, RFW's organizer, is sanguine about Russia's place on the fashion map. Brands such as Chapurin, Alena Akhmadullina and Denis Simachev show their collections during Paris Fashion Week, but Shumsky says that Russia has a general lack of designer recognition outside of the country. Obviously this does not impede the coordinating of nearly 70 shows at RFW, but just how relevant are these designers?
Lilia Poustovit's moody, Japanese-inspired design sense already sells at Dover Street Market, L'Eclaireur and Corso Como. Her looks for spring/summer '09 comprise of dresses totally rendered in black-and-white, in silhouettes distinguished by their thoughtful draping, folding and 3D layering in delicate chiffons and cottons. The fabrics and designs draw in the viewer, revealing unique sewing and construction techniques. Poustovit kept her collection concise, a welcomed restraint to the indulgences of other designers who failed to recognize the value of editing.
Many of the trends on the international runway also turned up at RFW. Ludmila Norsoyan, for example, built her identity on knitwear, and no doubt found the refinement of her s/s '09 collection in the global focus on smart knits from successful players such as Lutz and Patmos. The androgynous dressing that cropped up on the international catwalk in the last few seasons was also spotted in the masculine linen suits seen at Mainaim. The look adopted by many of the designers, however, was printed dresses in a variety of lengths, several of which tied at the waist ? la Diane von Furstenberg's famous wrap dresses. Katia Mossina, Masha Kravtsova and Masha Tsigal all sought variation on the trend to spice up their presentations.
Chari showed its first collection this season, debuting in St. Petersburg, where Maria Marnova (one half of the team) lives. She designs sweet dresses in white, dusty pinks and grays with modern silhouettes that would work in any fashion capital. Meanwhile, her partner Chris Kramer designs in New York, contributing a hip-hop inspired group of bomber jackets with crocodile insets for men. The two former models dated in Tokyo several years back only to reconnect over clothing design. While the photogenic duo is copy friendly, the line lacks cohesiveness in its disparate design efforts. A more integrated message, coupled with Marnova and Kramer's worldly exposure and high-end tastes could give them a sure shot at the spotlight.
While two friends experiment with a business concept, some Russian designers are experimenting with future fabrics. Take Viva Vox, for example, whose skirts showed off chevron stripes created from strips of multi-hued metallics, and jackets made of stiff crushed fabric similar to the textile seen in Prada's s/s '09 collection. As one of the more established talents, Viva Vox's experience was evident in some of the sharply tailored jackets and skirts with 3D features, as well as inventive details such as fringing at the base of a chic evening coat. Metallics figured heavily in Chistova & Endourova collection as well. Considered to be one of RFW's most promising labels, they focused on mini dresses, set off by contrasting leggings and other sheeny separates.
We were also struck by Masha Sharoeva's super luxe casualwear of oversized track pants and sporty throw-on dresses in earthy palettes. She gave a luxury travel twist to otherwise street-style silhouettes. Cyrille Gassiline picked up on the trend for shapeless satins and transparent chiffon tees and dresses, seen across international catwalks. Unfortunately he distracted from the clothing in the staging of an elaborate mise-en-sc?ne with a video projection and a wind machine. His talent and profile are apparent, but, while he has an excellent eye for color (dusty purples, pinks, greens) in the spirit of a Roksanda Illincic, he needs to push beyond the sophomoric shapes.
Arutyunov S.A. was one of the names we were told to look out for. Upon seeing the glamour gowns with tiered ruffles, bows and beadings, netted cocktail dresses and cinched waist blouses with leather pants, it was clear that it had all the over-the-top features you'd expect from Russia. While it wasn't quite on par with the refinement of an Elie Saab or Valentino, his show sure did the trick.
In spite of all the talent in Russia, there seems to be an element of kitsch in many of the collections that leaves a somewhat indigenous aftertaste. This is not the case in menswear designer label Arsenicum by Dmitry Loginov, who creates "minimalist, architectural clothing tinged with Gothicism." He says he tries not to exaggerate, which is clear in his stovepipe trousers and polished jackets constructed from Marzotto Lab fabrics. Of the subtle geometric detailing in his pieces, Loginov explains his influences as "secret societies and masonry," all expressed in the subtle seaming and pocket compartments. Referred to as the Hedi Slimane of Russia, Loginov has a planned store opening later this month, where he'll sell menswear and women's shoes-further cementing his brand in the marketplace.
So when can we expect to see some of these names at international boutiques? Shumsky has been forging relationships with international fashion weeks, exhibiting the cross-pollination by inviting Custo Barcelona of Spain and Alessandro de Benedetti of Italy to show this season at RFW (past guests have included Julien Macdonald, Vivienne Westwood and Zandra Rhodes). Shumsky is optimistic that if he continues to "promote the best of Russian designers" success will spread its way abroad.
Jason Campbell
Editor-in-Chief
JC Report
JustLuxe.com Contributor
Arutyunov S.A.
Arutyunov S.A.
Chari
Chistova & Endourova
Mainaim
Masha Tigal
Arsenicum
Arsenicum