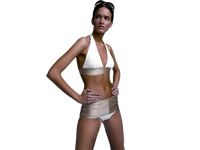 Fashion & Style:
I consider it my duty to fill serial style seekers in on the hottest fashions and latest trends on the runways and beyond. Here are a few recent fashion finds for adults and children alike deemed Luxe List worthy:
Kathleen Cook Swimwear
Kathleen Cook Swim evokes classic feminine glamour, with a collection that reflects an understated sexiness that exudes confidence. The 2009 debut collection led by Kathleen Cook, a former designer for NIKE, Abercrombie and Fitch and Banana Republic, includes five distinct lines: Amalfi, St. Barts, Cote D'Azur, Brigitte and Truro. Each offers unique details and imaginative shapes in a refined palette and vintage inspired prints. The collection is nuanced and sophisticated, balancing glamour, whimsy and elegance.
(www.kathleencookswim.com)
PZI Jeans
Finally...a pair of premium denim jeans designed specifically for curvy women! Designed with a streamlined waist, fuller hips and curvy bottom, PZI Jeans are made especially for women who do not fit into the model-size 0 jeans. They beautifully compliment those gals with an hour glass shape, and are a must for those to loathe that annoying gap at the waistline that flashes your underwear. I myself wear and swear by PZI - the sky ankle, topaz and caper jean style are among my faves! With high quality materials, an extremely thoughtful and intelligent design, an array of available jean styles, just the right touch of attitude and a price point below $100, all hail PZI Jeans.
(www.pzijeans.com)
Booda Brand Children's T-Shirts
Booda Brand is a unique line of "conversation clothing" for 12-month old babies and 4-year old children - both boys and girls. The line, which retails between $28-$32, features t-shirts inscribed with inspirational messages, turning kids into the littlest ambassadors of compassion, kindness, peace and goodwill. These adorable, comfy t-shirts evoke the power of visually stunning world imagery in combination with empowering messaged of social change, such as Dream, Believe, Peace, Love, and Courage. Every t-shirt also features the affirmation "I Will Make a Difference" and, staying true to that promise, Booda Brand donates one book to a child in need (through non-profit organization Room to Read) for every purchase received.
(www.boodabrand.com)
FLABuLESS
This item made The Luxe List due to its sheer uniqueness. FLABuLESS is the first-ever arm shapewear that slims, conceals and re-shapes that particular area of the body, resulting in a renewed fashion confidence for many women who regard their arms as a "problem area." FLABuLESS arm shapewear instantly lifts sagging skin while slimming and streamlining bulges and ripples. With proper size selection, it will not only provide adequate compression, but also provide a sleek, slender silhouette under tailored tops, dresses and fitted jackets. Available in Pleine (long sleeve) and De Quart (short sleeve) both under $40, two colors - black and copper nude (chocolate, bone, and navy coming in '09), and 7 sizes ranging from S-4XL, this product has an arm streamlining solution for every woman.
(www.flabulessu.com)
The Luxe List product review editor Merilee Kern scours the luxury goods marketplace for new and innovative must haves. Product submissions accepted via e-mail at Merilee@JustLuxe.com.
- Merilee Kern
JustLuxé.com's "The Luxe List" Product Review Editor
Kathleen Cook Swimwear
PZI Jeans
Booda Brand Children's T Shirts
Booda Brand Children's T Shirts
FLABuLESS
FLABuLESS