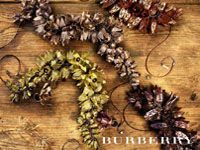 Fashion & Style: Burberry's latest runway collection is called the Garden girls, and its Spring 2009 jewelry collection is a fashion statement that is resonating around the world. The globally renowned London-based purveyor of style personified is expanding its breadth of excellence with the blossoming of the jewelry line.
Although the Spring 2009 collection marks only the first anniversary of the thematically driven series, the luxury-fashion house's success of the previously released Fall/Winter 2008-09 collection has established great expectations for the jewelry pieces shown at the Burberry Prorsum Spring 2009 runway show. The Garden girls' collection will be available in stores and online at Burberry.com this spring.
Since the Spring 2008 show, the debut of its jewelry line, Burberry has made strident steps to be recognized as a costume jeweler as well as a highly valued clothier. This should come as no surprise to those familiar with the company's history, as the brand's well-deserved reputation for being an industry stalwart dates back to the 19th century. The inventor of gabardine, Thomas Burberry, opened for business in 1856. Burberry has also established a celebrity following being worn by celebrities such as Gwyneth Paltrow, Anne Hathaway, Charlize Theron, Brad Pitt, Benicio del Toro, Daniel Craig, Demi Moore, Jennifer Aniston, Hilary Swank to name just a few who have fallen in love with the brand.
Craftsmanship is what makes each piece so special, from the metallic floral garland to the metallic rose ring to the mushroom acrylic floral cluster, is an intricately designed 3-D masterpiece. The efforts of Burberry's creative director Christopher Bailey shine brightly. The lifelike quality of the entire collection is absolutely stunning. Who would have ever suspected that Mother Nature moonlighted as a jewelry designer?
Necklaces, pendants, bracelets, and rings are included in the collection comprised of metallic flowers, acrylic flowers, and geometric alligator tiles. The metallic-flower pieces present necklaces, pendants, bracelets and rings with hand-sprayed brass traditional British flowers, including daffodils, crocuses, lilies of the valley and snowdrops. The acrylics include necklaces and bracelets with handmade cut out flowers. The geometric alligator group includes layered tile necklaces, bracelets and waxed wooden bangles with degradé alligator detailing.
The colors, slate blue, dark rose, mushroom, sapphire, plum, purple, taupe pink and stone, fully complement the assortment of ready-to-wear clothes of the Spring 2009 collection. Prices for the jewelry collection range from $195 - $1,195.
In a business climate filled with uncertainty and volatility, Burberry has managed to diversify its brand and expand upon its retail reach in new emerging markets under the masterful tutelage of CEO Angela Ahrendts.
For more on the Garden Collection visit Burberry.com