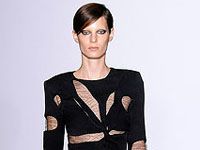 Fashion & Style:
The cut-away pattern is one of the most noticeable trends in this season's womenswear collections, allowing models' skin tones to create patterns, rather than fabrics alone. This resourceful approach is in sync with a collective move from excess to necessity, from addition to subtraction―both in the fashion arena and the world at large.
Preen's autumn/winter '09 collection offered the most jaw-dropping, eye-opening example of this look: short, black cocktail dresses transformed into avant-garde '80s throw-backs with the help of some over-eager scissors. Models stomped down the catwalk like walking Rorschach inkblots, with moving patterns and textures appearing through the absence of fabric.
Alexander Wang offered a more geometrical variation with his Batman Returns-inspired collection, which displayed the cut-away trend with prominent, concrete shapes: square windows of flesh were visible on either side of some dresses, while trapezoidal pieces appeared on shirts and triangle cut-away patterns showed up on tights. Jonathan Saunders' sharp, robotic cuts were similarly angular, featuring choice cut-outs in the most flattering places. Halston, Donna Karan, Elise Øverland and Cushnie et Ochs all used the look to play up the sensuality of shoulder and collar bones, succeeding in a suggestive sexuality.
While these looks are truly arresting, it's hard not to wonder how the aesthetic is compatible with cold, winter weather. All the same, the cut-away method provides a relevant metaphor for the state of the industry: with missing resources, money and confidence, designers elegantly reflect the socio-economic state by taking away, rather than inserting. Just remember to stock up on sheer silk body suits before baring all next fall.
Jason Campbell
Editor-in-Chief
JC Report
JustLuxe
Contributor