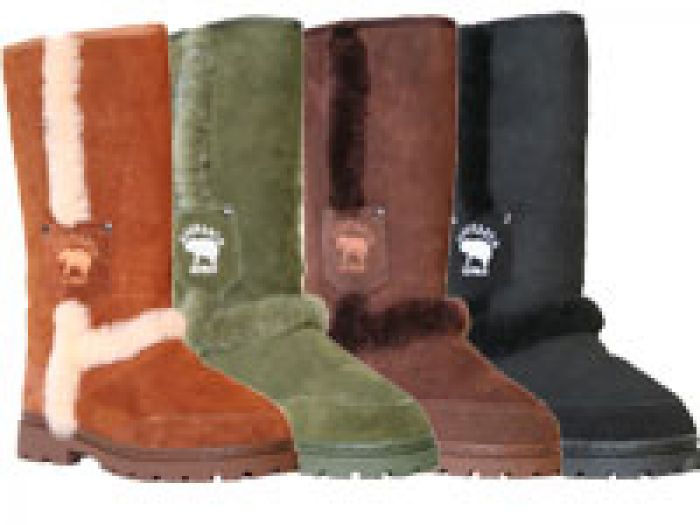 Fashion & Style:
Have you ever enjoyed a winter day curled up on a comfy chair with a soft blanket and warm drink alongside a cozy fire? I get that same feeling of contentment every time I slip on my sheepskin boots from Warmbat Australia - one of the oldest and most respected brands in the sheepskin boot industry.
The company's
"Gecko Grip Flurry"
boot ($210) - my personal favorite - combines rugged outdoor durability and extreme comfort elements with a high fashion sensibility.
Made of the finest grade double-faced Australian Merino sheepskin, the exposed seams and trendy cargo pocket featuring the signature Warmbat logo ensures these boots look as good as they feel. With sheepskin lined, cushioned memory foam footbeds, this boot will surround your piggies in plush comfort beyond imagination. This durable outdoor boot also has an all-weather rubber sole that provides essential shock absorption and traction in any kind of weather. It also features a leather heel and toe cap for added protection.
Comfort and style aside, it's interesting to note that Warmbat Australia uses Eco-Friendly Sheepskin, which means that the sheepskin has been tanned and finished with chrome-free tanning agents and chemicals. Aside from the environmental benefit, this is also good for people who are chemically sensitive. The company's entire product line-from boots and shoes to fuzzy slippers and sandals-has been dermatologist tested and approved.
Indeed, Warmbat Australia offers a complete line of women's, men's and adorable children's footwear in a range of styles and colors. All of the Warmbat Australia products offer a patented sizing system that allows for superior fit and comfort not found elsewhere.
I can honestly say I've never had a boot this practical, comfortable and functional look so stylish. My Warmbat Australia boots have become my obsession of the season.
View the company's entire line at
www.warmbat.com
.
The Luxe List product review editor Merilee Kern scours the luxury goods marketplace for new and innovative must haves. Product submissions accepted via e-mail at Merilee@JustLuxe.com.
- Merilee Kern
JustLuxé.com's "The Luxe List" Product Review Editor