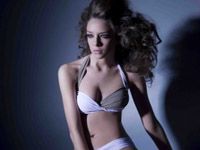 Fashion & Style:
Whether lounging beach-side, pool-side or yacht-side this season, sizzling haute swimwear is a must. Given the surge of designers that have infiltrated the swim and resort wear category, there's certainly no shortage of sexy and sophisticated collections to ensure you look glamorous and feel confident while having fun in the sun.
Here are two of my favorite lines right now:
Poko Pano Swimwear by Paola Robba - $120-$170
A brand that has endured for more than two decades, Poko Pano Swimwear is a Brazilian company that has taken the category to new heights. The brand's visionary designer, Paola Robba, is renowned for re-thinking swimwear silhouettes and sending cutting edge designs down the fashion industry's leading runways. In fact, she recently debuted her 2009 collection at the famed Mercedes Benz Fashion Week in Miami.
With a decidedly fashion-forward and sophisticated aesthetic, it's no wonder that celebrities the likes of Angie Harmon, Jessica Simpson, Janet Jackson and Beyonce are fans, and that Robba's designs have been featured in
Shape, Elle, Vogue, InStyle
and the coveted
Sports Illustrated
Swimsuit Edition.
Overall, the 2009 Poko Pano by Paola Robba Collection is incredibly inventive and high spirited, with lush, top-quality fabrics. Of all the eye-catching one and two-piece designs, and rest assured there are many, for me the "Tori" ($129) is a real stand out for its clever construction, muted mocha and white tones and overall "wearability." This "retro-chic" bikini, made with ultra soft Lycra that feels divine against the skin, features distinctive twists in the middle and ties behind both the back and neck. The top also has built in pads for a measure of support and discretion. The bottoms come in Brazilian (minimal coverage) and American (moderate coverage) cut.
In this or any other Poko Pano suit there's no doubt you'll garner more than your fair share of attention.
(www.pokopanoswim.com)
Seafolly Swimwear - $50-$150
Whether for a weekend getaway in Miami, a one-week retreat in the Bahamas, or a major cruise excursion, a selection or three from Seafolly's stylish swimwear line will have you looking your best.
This Australian-born brand has been creating and merchandising beachwear and accessories since 1975, and their experience shows. From a country famed for its beach culture, Seafolly's trendy, figure flattering one and two-piece designs offer bold shapes, prints, and textures as well as a crisp and lively color palette. The company's chic suits have adorned the beach bodies of numerous young Hollywood A-listers, including Mischa Barton, Lauren Conrad and Ashlee Simpson.
And, while I may not be a Hollywood A-lister, I still look like one in my own Seafolly bikini. I opted for the Mondrion design ($150) with a blue, white and black geometric pattern, and I have to say this bathing suit fits incredibly well, accentuating all of my best features. Its sporty aesthetic immediately puts me in the mood for some active summer fun.
Shop Seafolly online so you can mix and match a sea of swim separates relative to cut and color to create a myriad of different looks. With so many to choose from, you're sure to find a combination perfectly
suited
for you.
(www.seafolly.com.au)
The Luxe List product, service and travel review editor Merilee Kern scours the luxury marketplace for new and captivating "musts." Submissions accepted via e-mail at Merilee@JustLuxe.com.
- Merilee Kern
JustLuxé.com's "The Luxe List" Executive Review Editor
Poko Pano Tori Bikini
Poko Pano Tori Bikini
Seafolly Swimwear
Seafolly Swimwear
Seafolly Swimwear
Seafolly Swimwear