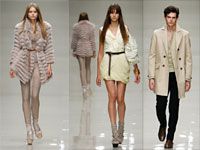 Fashion & Style:
For the multitude of fashion lovers around the world that couldn't make it to London Fashion Week, the Burberry Prorsum Spring Summer 2010 Collection came to them via a live stream online.
Although the Burberry Prorsum has been held in Milan for the past eight years, this year head designer Christopher Bailey decided to hold it in London, the perfect finish to London Fashion Week, which is celebrating its 25th year anniversary.
Even more exciting than the move to London, was watching the Burberry Prorsum Spring Summer 2010 as it streamed the show live online, giving Burberry fans around the world the chance to watch the show with better than front row seats.

Before the show began, silent footage of the prep video was interspersed with live footage of the tent as it began to fill up with fashionably late guests. The show was set to begin at 6:30 PM London time, but was over half an hour late. In the meantime, fans from around the world joined in a chat about their shared excitement and where and how they were viewing the show.

Jamie Johnson of Marbella shared that she was sitting on her balcony sipping a glass of wine as others proclaimed their excitement and urged the show to begin. Other fans were from different parts of Asia, South America and one woman in Australia revealed that it was 4 AM her time, but she didn't want to miss out on the live experience.

In between on-going comments of viewers alternating about wishing they were at the show in person, Burberry assured us the show would begin any moment. Online commentators also shared who they hoped would be in the audience and even name-dropped a few guesses. At the top of the list was Harry Potter star Emma Watson, who is the new face of Burberry. Other celebrity attendees possibly spotted include the Olsen twins, legendary fashion editor Anna Wintour, Victoria Beckham and others. Stars on the runway included models Chanel Iman, Lily Donaldson and Abbey Lee.


Once the show finally commenced, a model strutted out sporting what would be common sightings during the rest of the show: an open trench coat held together with a belt, rather than the traditional tie waist, in muted beige tones.

The first look was followed by more muted hues of beige and gray speckled with a flash of color in pastels including soft pinks, sky blues and mint greens. The sole dark look came on a male model dressed in a midnight blue suit.

Each dress was a mini with draped ruching detail at the hem. Ruching appeared everywhere on the collection, from tops with knots to oversized shoulders on trench coats and even some of the few skinny pants shown.

Some of the best parts of the show came in the accessories, big bold cuff bracelets in metallics and plastics as well as the classic Burberry print appearing on a large shoulder bag. The shoes were also a standout, impossibly high gray platforms with a series of knots from ankle to toe that mimicked the knots that appeared on the clothes. The collection was literally held together by belts, whether metallic, skinny leather strips, or decorated by hardware, belts were on every women's look, whether an evening dress, trench coat or pants.

Fans seemed to be receptive to the new look, praising Christopher Bailey, creative director of Burberry, as being nothing short of genius.

For JustLuxe Carly Zinderman

Burberry Prorsum Spring Summer 2010 Collection

Burberry Prorsum Spring Summer 2010 Collection

Burberry Prorsum Spring Summer 2010 Collection

Burberry Prorsum Spring Summer 2010 Collection

Burberry Prorsum Spring Summer 2010 Collection

Burberry Prorsum Spring Summer 2010 Collection

Burberry Prorsum Spring Summer 2010 Collection