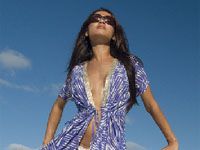 Fashion & Style:
Described by Vogue as 'the perfect reason to start planning your holiday wardrobe', Papillon Bleu has raised the bar again this year with its stunning Spring / Summer 2010 collection "Island Girl".
Bursting with such magnificent colors as rich amethyst, cooling aqua and citrus lime, Papillon Bleu's resort collection has cleverly created a versatile look that can be worn day or night, be it apr?s beach, poolside or an evening under the stars.
Achieving almost incomprehensible interest, Papillon Bleu, in a mere 3 years, has managed to intrigue more than 150 stores and resorts worldwide to carry their exquisitely embellished pieces. Don't get me wrong, this label is by no means a monolithic mass produced product seen on every street corner; on the contrary, these pieces are something quite special. The garments appeal to the confident woman, perhaps the free spirit who isn't afraid to capture life's most magnificent moments…embracing both her beauty and life itself with great enthusiasm and wonder.
The list of locations from where you can buy Papillon Bleu is made up of exclusive high-end boutiques and dreamy resorts such as Sandy Lane in Barbados and Banyan Tree Resorts. Many are one off boutiques and resorts, cherry picked for their charm – but not for long. I predict luxury department stores to be next on the list, simply to keep up with demand.
The company's stellar reputation is a direct result of both Vanessa Barker and David Robertson's dedication to superb quality in both product and service. Receiving countless thank you's by satisfied buyers for outstanding customer relations, this dynamic duo has proved to be successful in keeping clients smiling during otherwise distressing times. This combined with Barker's glamorous yet carefree, artistic interpretation of what tropical resort wear should exude, affords them much deserved praise and recognition as a new leader in the luxury resort wear industry, setting an unprecedented stage for effortless holiday glamour backed by admirable business acumen.

Designs for Papillon Bleu's resort and ready to wear collections are created from 100% natural fibres. The designs are dramatically casual, comfortable yet gorgeous, imbuing the wearer with an effortless chic, that's positively elegant but not precious, and celebrates the sense that life is to be lived- free, barefoot and always at ease. With 17 summer silhouettes in over 51 print and color options carrying you from beach to bar and beyond, you needn't look anywhere else. Light weight and captivating to the eye, these pieces are simply a work of art and an absolute must for your next tropical getaway. For more information on Papillon Bleu visit www.papillonbleu.com


For stores interested in carrying Papillon Bleu, please contact Julie Mutimer at Jules@papillonbleu.com.



By Jule Guaglardi
JustLuxe Contributor