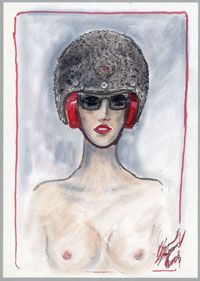 Fashion & Style:
JérômeCoste, the Creative Director behind Les Ateliers Ruby, and Karl Lagerfield, Chanel's fashion maestro have teamed up for Ruby's fourth installment of signature limited edition helmets, according to
Yatzer.com
Based on Ruby's classic Pavillion Helmet design, a retro look that utilizes aerospace technology for safety, the four helmets in the new collection are combined with Chanel's signature aesthetic black and white sensibility of rich fabrics, fur and pearls.
The first helmet in stylish black and white tweed has already hit shelves for €1,200. This version is limited to 100 pieces. The remaining three helmets are even more exclusive, being limited to only 12 pieces each. One is covered in terracotta colored fabric embroidered with pearls for €3,820, another is covered in shiny black mink for €4,545, and the final is white rex rabbit fur for €2,730.
Karl's special personal touch includes an external pocket for an iPod, an accessory the fashion guru reportedly can't be without.
To celebrate the collaboration, a limited edition of five hundred pieces of Karl's rendition of the Ruby Woman on a silk 70x70 cm is also available at €140.
The very special collaboration made their debut at the Chanel Autumn/Winter 2009/2010 collection show.