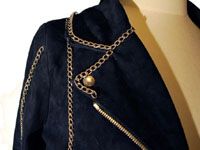 Fashion & Style:
Je Ne Sais Quoi recently launched as a Paris-based e-boutique, specializing in niche, international luxury products: ready-to-wear, accessories and lifestyle goods for both men and women.
As a lover of luxury goods herself, founder Mireille Nagourney, launched
Je Ne Sais Quoi
(JNSQ), which translates to "I Don't Know What," as a way to share locally produced brands that may be hard to find locally. Each brand featured on JNSQ has been carefully chosen by Nagourney for their extremely selective distribution, their rich and distinct stories, and their unwavering commitment to quality artisan craftsmanship. For the same reason they are chosen by Nagourney for their unconditional quality, craftsmanship and timelessness, many of JNSQ's brands have also developed a significant celebrity following as well.
Ettinger has been one of the world's most exclusive brands for more than 70 years. The English luxury brand was appointed a Royal Warrant to HRH the Prince of Wales for their fine craftsmanship. JNSQ is one of only three online retailers to offer Ettinger leather goods and products.
French brand Heimstone offers a glam rock meets feminine sensibility and can be found only in fashion forward multi-brand boutiques, including JNSQ. Zoeppritz has been creating luxury lifestyle products for more than 175 years. The German luxury company is renowned worldwide for its cashmere products, which have won awards and shelf space in the world's finest shops. Siwa accessories have drawn acclaim thanks to the brand's founders, Mounir & Laila Neamatalla's vision of creating luxurious handicrafts while promoting environmental sustainability while preserving local culture and heritage and empowering women.


Other brands featured by the specialty e-boutique include: Catherine Michiels Custom Jewelry Design, LnA, Owen & Savary, Moio, Tali Gillette, Smythe, French watch-brand Lip and countless others from around the world.

Nagourney's international upbringing, raised in France by American parents, and background in the world of fashion have allowed her to know exactly which brands to choose to give luxury shoppers the best selection in the same place, whether they are shopping for themselves or a gift for others.

In addition to the world's most exclusive labels, JNSQ strives to break the virtual boundary by also offering exceptional service and personalized attention. To this end, customers can expect speedy delivery and quality customer service.

As a high-end shopper herself, Nagourney understands that part of the luxury service and shopping experience is in the packaging. JNSQ products arrive wrapped in silk tissue paper or in a linen pouch, placed in a crisp white shopping bag and secured by an organza ribbon that follows the JNSQ color scheme.

Yet another touch of Je Ne Sais Quoi is the store's five Must Have's. Composed of five looks made of five items for each collection, which combine edgy but elegant accessories to add some originality to an outfit, "Because Style is a Constant."

Fro JustLuxe Carly Zinderman