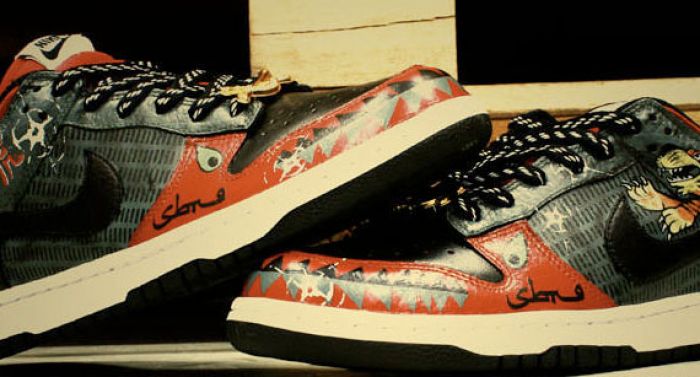 Fashion & Style:
When folks said that this artwork had kick, they meant it literally. These soulful shoes are limited-edition creations made by Royalefam for SBTG. The company transforms factory-produced sneakers into limited-edition wearable or collectible artwork that sell for as much as $650 per pair.
The company has worked its magic over the years with major sports shoe brands, such as Nike, New Balance, and DJ shoes. There are several vibrant models currently available like Varsity Bones, Flying Tiger, and the Valentine's Day special, Die Die My Darling.
All of the selections currently displayed are Nikes. However, clients do have the option of having a one-off exclusive pair of sneakers made as well.

Art & Sole: Celebrity clients who have had custom sneakers made by SBTG include Kobe Bryant, and Linkin Park members Mike Shinoda and Joe Hahn.