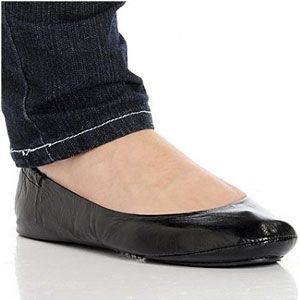 Fashion & Style:
We've all been there...your feet are throbbing but your gorgeous heels are far too
fabulous
not to wear. We've also all probably seen that women on a mad dash dressed in a suit rocking sneakers while her heels rest comfortably in her bag. Neither situation is ideal, but alas ladies, finally there's an answer
CitySlips
!
These chic foldable ballet flats are the brainchild of NYU students Susie Levitt and Katie Shea who, between classes, internships, dinners and events, know the perils of navigating city streets in towering heels all too well. Each pair comes with their own protective carrying case and can be stored in any standard bag, allowing women to switch easily into more comfortable footwear after any well-heeled event. The best part is the CitySlips pouch then converts into a larger tote bag to store those killer high heels. It's like three gifts in one! Available now at the low price of $30.