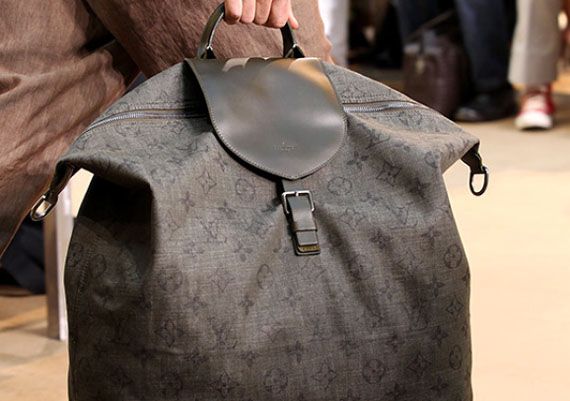 Fashion & Style:
Louis Vuitton unveiled a stunning selection of menís bags for spring and summer of 2011 during its menís fashion presentation in Paris the other day, evoking the image of a debonair global traveler. While the womenís bags of the famed French
fashion house
usually garner all the attention, the variety of offerings indicate LV is taking the menís market more seriously this time around, a boon for stylish gents everywhere. With a subdued color palette of grey, brown and green, the collection had an appealing classicism and understated elegance that nonetheless bespoke considerable expense.
In yet another evolution of Vuittonís iconic monogram pattern, some bags more larger-scale and faded versions in a washed denim fabric with leather straps and detailing. Another classic, the Damier pattern rendered in black and gray, was also tweaked with different fabric treatments and unique shapes, including a leather keepall version featuring a chinoiserie design by tattoo artist Scott Campbell, the latest Vuitton collaborator. Among the best-looking pieces was an over-sized tote bag in washed canvas featuring an enlarged archival Vuitton logo, ornamented with olive green leather straps and handles.