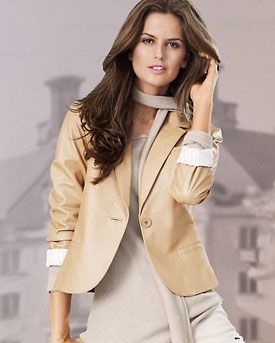 Fashion & Style:
Before she was a judge on the reality show Project Runway, Nina Garcia was a style maven. In The Leather Look Book, a collection of luxe leather pieces available now at newportnews.com, the Marie Claire Fashion Director teams up with Newport News to pick her favorite leather looks for fall and how to wear them.
Tailored leather girlfriend blazer
Leather was a huge classic trend that carried over from spring into fall this season. Not only has it become more day-appropriate, we are also seeing it in various options. One versatile alternative is Newport News' Leather Girlfriend Blazer. For a steal at $129, it adds another dimension to your jeans and tee, or evening minidress!
Jewel-toned leather motorcycle jacket
Jewel tones are the easiest way to add color to your fall wardrobe. From ruby-red tops to emerald skirts, Newport News has a great range! A great investment piece is the motorcycle jacket, a quick way to add some downtown feel to your outfit.

Modern suede mini skirt
Everyone loves a mini skirt, but it's hard to find one that's winter-appropriate without looking old-fashioned. Newport News' suede mini is just the answer; it looks great with layers and tights, or with a slim-fitting top, and comes in a variety of colors.