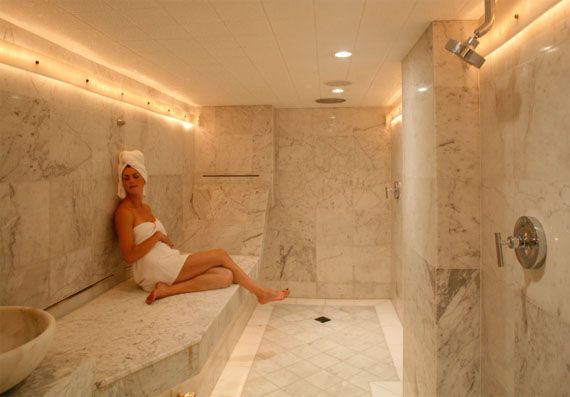 Photo Courtesy of Argyle Salon and Spa
As the 83rd Annual Academy Awards approaches on Sunday, it's safe to say that a flurry of important details and decisions are carefully being considered. Tinseltown is abuzz with preparations before the
red carpet
is officially rolled out this weekend.
One aspect of the Oscars that's never fretfully overlooked? The glorious pampering and beauty regimes indulged by the stars to look and feel their absolute best for the red carpet. Most seasoned celebrities are well underway in their beauty preparations days, even weeks, in advance to ensure optimal results.

From detoxifying cleanses and powerful anti-aging facials, to skin-smoothing body wraps and all-over spray tans, there's no limit to the lengths celebrities go to in the beautification process for the all-important Oscar Awards.

Curious to know what the stars subject themselves to in the name of Hollywood glamour? Here's a sneak peek:

Kinara Skin Care Clinic and Spa

The trendy spa on Robertson Boulevard is a favorite among Halle Berry, Jessica Alba and Kelly Osbourne. It is always booked solid before Oscar Sunday, thanks to their exclusive menu of customized treatments for the nominees, presenters, attendees and VIPS. Among those treatments are the signature Red Carpet Facial which steam cleans the pores, dissolves impurities, refines wrinkles and gives the skin a healthy, even glow—perfect for the paparazzi flash.

A Red Carpet Body Peel and Pedicure are also musts before ending the spa experience with a flawless St. Tropez treatment—either the Hyper-real Tan, Ethereal Tan or Muse Tan—performed by a skin-finishing expert from the brand.

"I tailor the skin finishing treatment for each celebrity in order to achieve individualized color, while adding body contours and highlights to complement the skin," explains Fiona Locke, St. Tropez's VIP skin-finishing expert. Her clientele includes Toni Collette and Emily Blunt. Other St. Tropez faithful fans include Keira Knightley, Sienna Miller, Kate Moss and Sharon Stone.

The Argyle Salon and Spa at the Sunset Tower Hotel

Located in one of the most iconic hotels in town, it's no wonder the Argyle Salon and Spa is frequented by the Hollywood elite. Sean Penn rejuvenated for the red carpet with the Turkish Hammam, a relaxing bath that opens the pores and allows the body to relax and detoxify. Eva Mendes frequently books a custom massage and facial and adds on an LED light therapy treatment. This process enhances cellular metabolism, accelerates the repair and replenishment of damaged skin cells, and stimulates the production of collagen, before red carpet appearances.

Uma Thurman and Catherine Zeta-Jones regularly visit the beauty hot spot for custom facials, haircuts and blowouts with the salon's beauty pros; and Julianne Moore just stopped in to pamper herself with the Argyle signature massage.

And lastly, a certain notable A-lister has booked the Arcona Organic Enzyme Peel for this weekend. This incredible treatment provides cellular renewal for sun-damaged or dull-looking skin via organic fruit enzymes that dissolve dead skin and cleanses pores. It does all this without the harsh side effects of a chemical peel. The result? Radiant, glowing, plump skin!

Kate Somerville Clinic

When it comes to the ultimate skin care specialist in L.A., stars flock to the Kate Somerville Clinic on Melrose Place. The Ultimate Kate Facial offers enzymatic exfoliation, light extractions, the signature Dermal Quench treatment and finished with LED red light exposure to penetrate the serum into the skin and stimulate collagen and elastin.

And to ensure that Oscar gown glides on smoothly on Sunday, celebrities rely on the Lipocell Body Firm to reduce cellulite and tighten the skin through a complete program involving cellular micro-massage, microcurrent technology (to encourage lymphatic drainage and stretch mark reduction), Vacum-Dermo-Mobilization and more. Kate's loyal clientele includes Jessica Alba, Nicole Richie, Katherine Heigl, Katy Perry, Sophia Vergara, Debra Messing, Molly Sims, Kyra Sedgwick, Christina Aguilera, Lauren Conrad and more.