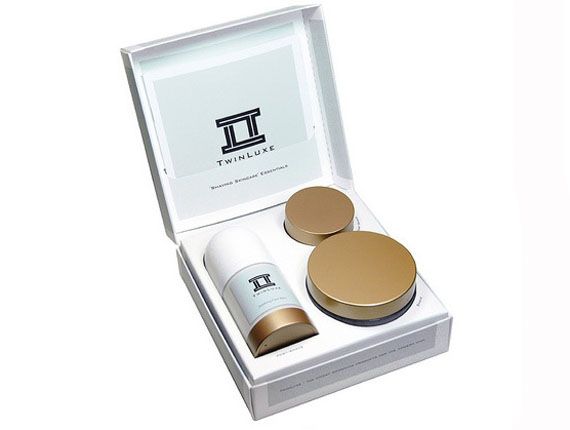 Photo Courtesy of TwinLuxe
"Shave and a haircut — two bits!" Does anyone recall how easy it was to find Roger Rabbit in the film
Who Framed Roger Rabbit?
Roger could not resist responding to the last two words of that famous seven-note couplet for anything? Even if it meant putting his beloved and well-drawn Jessica in peril.
The go-to musical topper first came out in 1899. It was an era when men viewed shaving as such a mainstay in their personal grooming that it was outsourced to ensure perfection.

Even the DIY gents of the day who shaved themselves did so with the mind-set of a craftsman on a mission in pursuit of excellence. How it went from a form of manly self-indulgence to its fast and furious, done in 60 seconds or less act that it is today may be the biggest setback in the advancement of men's personal hygiene of the 20th century.


So, in an attempt to put luxury-loving men back on track with minimal irritation and redness, we present a line of men's luxury skincare products by TwinLuxe that is rapidly garnering the rep for being the best of the best in the biz.

How great is great? TL's Essentials Gift Set for shaving was the featured men's grooming product in the official Grammy gift bags issued to presenters and
performers at the 53rd Grammy Awards in Los Angeles.

"You will get the perfect shave experience with our products. We turn shaving and men's skincare into a fun, rewarding experience. It is like having the entire spa facial, barbershop-shave experience in your own bathroom," said Anthony Tsai, president at TwinLuxe.

The three-piece deluxe Essentials Gift Set contains booster and shave creams along with a balm for gentlemen who want genteelness to reflect off their complexion. Overall, there are seven skincare products in TwinLuxe's line, including a shave cream that is used without water.


What makes it better? A custom blend of Asian botanicals, including pearl powder and hydrolyzed rice protein, is what distinguishes the TwinLuxe skincare products. The company's website presents a prescribed shaving methodology to achieve the best results when using its products.

The firm sells luxury shaving instruments and accessories too. The designer of the exterior of the Rolls-Royce Phantom, Marek Djordjevic, also designed TwinLuxe's elegant and rugged shaving sets. The same materials used in supercars, fine wristwatches and surgical equipment are used in the shaving sets.

The Arctic, which is the highest priced of the three models available at $1,588.00, is made from a solid white alumina ceramic. The same material is used in the making of engine parts and ballistic armor.

A Marek Djordjevic-styled shaving set consists of a stand that holds a brush, a handle and a razor. It comes delivered in a walnut wood box with a slide-out door that contains a high-grade soft micro-cotton shaving towel.

The founders of TwinLuxe, twin brothers Anthony and Hubert Tsai, want to make products that they would want to use themselves. The Tsais do not only own TL, they also personally assemble each sold shaving set. Their determination to put luxury back to into a man's shaving experience is a work toward progress.

The identical-twin brothers have their own spin on that aforementioned classical clavet. "Shave and a facial — makes sense!"

For more information, visit www.TwinLuxe.com.