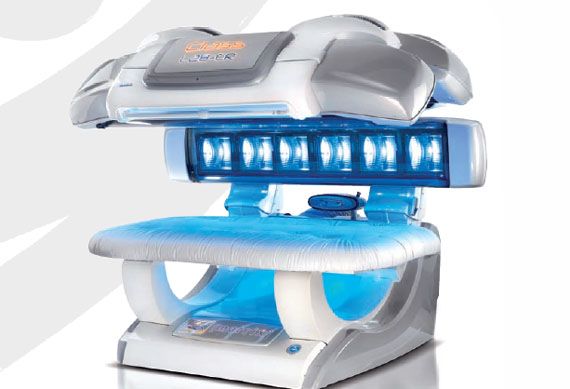 Photo Courtesy of I.SO Italia
It's not easy to achieve a year round, fresh-from-a-vacation glow; but the Matrix Class L28 ER, a one-of-a-kind
tanning bed
, sure helps.
From I.SO Italia Solariums and Beauty Equipment, the Matrix Class L28 ER promises to provide both safe tanning and comfort. Matrix Class L28-ER uses Evolution Reflectors to provide an even glow with 18 high pressure lamps - six on the facial unit - by 650W, arranged radially inside the three tanning units.
In addition, the tanning bed provides comforts normally found only on luxury massage devices including a massaging mattress, a powerful ventilation system that can be adjusted by the user, the perfect soundproofing and stereo system with headphones. The design is open, so that even claustrophobia sufferers can get their tan on. The tanning bed promises safety first, with UV filters and an LCD screen that monitors for any problems.
In addition, the super luxurious bed provides personalized comforts and amenities including keeping track of the number of sessions completed, the hours of operation and the right moment to change lamps. It also offers four different tanning programs and the option to personalize the synthesized voice messages.
The Matrix Class L28 ER can be further customized with extra bells and whistles including an external roll holder, an aroma diffuser, air deflector, digital remote control and an electronic token unit.
The Matrix Class L28 ER is effective on both face and body and offers the convenience of the tanning salon right in your own home.
Visit
en.isoitalia.com
to learn more.