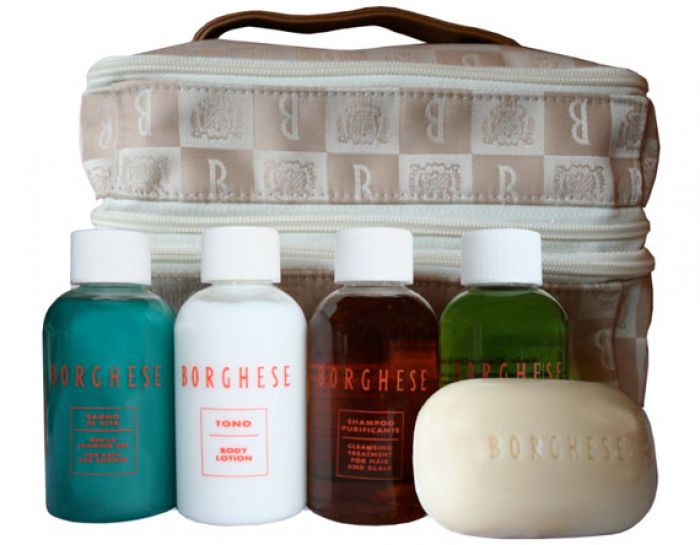 Photo Courtesy of Borghese
We are giving JustLuxe readers an exclusive chance to win a bundle of amazing
skin care products from Borghese
valued at $230! This luxurious line was developed back in the 50s by Princess Marcella Borghese of Italy and has been wildly popular ever since.
If you've never had a chance to try some of their iconic products, now's the time; and if you are a loyal Borghese user, then you'll be more than happy to add to your collection!
Whether you're planning a vacation, weekend getaway, or looking for the perfect gift for that special someone in your life, these products are sure to please and will suit any occasion.
What will the lucky winner receive? Check it out:
FANGO Active Mud
This thick mask is made from volcanic mud located in only one place on the planet in a small region of Italy. Slather this stuff on and let it drench your skin in nutrients. This is not just for your face, you can put this miracle mud anywhere and it will do wonders.
Botanico Eye Compresses
If you are in the need of a pick-me-up after a late night out or lack of sleep, these will do the trick. It will take just a quick five minutes to regenerate your eyes the morning after a rocky night; and that dry, tired feeling will give way to bright eyes. Not only do they really leave you feeling refreshed, they also make your eyes look rejuvenated.
Bagno Di Vita Gentle Foaming Gel for Bath and Shower
Treat your skin to some intense hydration with this daily-use foaming gel. Whether you use it in the shower or in the tub as bubble bath, this product will leave your skin feeling soft and smooth while ridding it of impurities. Hazel, sweet almond, and olive oils give an aromatherapeutic experience while you relax and unwind.
Tono Body Lotion
To follow up your refreshing shower, apply Tono Body Lotion to dryer areas like elbows or feet, or all over the body to seal in moisture. Rosemary and lavender extracts leave a clean, floral scent on your skin while fennel, witch hazel, matricaria, horse chestnut and ivy extracts help to improve its tone and texture.
Crema Saponetta Cleansing Face & Body Bar
After you use this creamy body bar you may never go back to regular soap! Use it all over your body for a clean, never dry, feeling. It is great for removing makeup, or for shaving legs or facial hair, as it forms a thick lather on the skin. It prevents irritation, tones, and soothes all skin types.
SpaTastic Travel Kit
If those luxurious products weren't enough, the winner will also receive Borghese's SpaTastic Travel Kit as a bonus! This kit will have you ready to jet set in no time. It contains five travel-ready, carry-on compliant products in a convenient detachable two piece travel bag. Get ready to look and feel your best wherever you go!
Just leave a comment telling us why you deserve to win and you are automatically entered!
Comments must be received by September 16, 2011 11:59pm EST, winner will be notified by September 19, 2011.
Terms & Conditions
In addition to this exclusive offer with JustLuxe, Borghese is holding their own special giveaway to reflect their Tuscan Heritage. Borghese invites you to enter their "Best of Borghese Sweepstakes," in which one lucky winner, and one guest, will receive a grand prize trip to Rome! Along with this amazing trip to Italy, Borghese will also be offering weekly prizes of the latest must-have essentials. To enter visit
Borghese.com
.