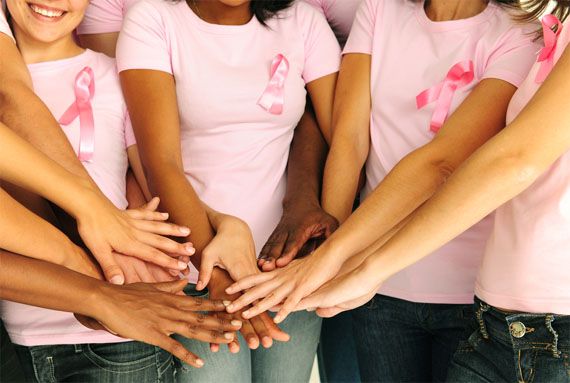 In support of
Breast Cancer Awareness Month
, we want to share some incredible products that were especially created to inspire and support this worthy cause. With proceeds from the sale of each item going toward breast cancer research, itís great to see such profound support coming from the beauty industry along with such fantastic products. While shopping for beauty items is by far one of lifeís most pleasurable indulgences, the following list of products serve both to beautify and to help in finding a cure for breast cancer.
CHI Air Tickle me Pink 1Ē Iron
$99.98
Fewer beauty implements are as essential as a good straightening iron, and CHI produces some of the most effective options. In honor of Breast Cancer Awareness Month, CHI is offering its 1Ē Tourmaline Ceramic Flat Iron in ďtickle me pinkĒ exclusively available at Target.
Clarisonic BCA Pink
$195
Itís no secret that Clarisonic has been our most featured and favored beauty product, but now this absolutely essential, highly effective little gadget is available in pink to honor breast cancer awareness. Donít miss out on the chance to purchase this lovely limited edition Clarisonic exclusively at Sephora.
Giovanni D:Tox
Giovanni Cosmetics have donated more than $150,000 to the National Breast Cancer Foundation, Inc from the proceeds of the brandís incredible D:Tox line of facial and body products. The D:Tox range is formulated with charcoal and volcanic ash from the Mediterranean Sea, both of which are extremely effective in absorbing toxins, impurities and excess oils that clog pores and interfere with overall skin clarity. Giovanniís D:Tox system
is without a doubt a superior line of products.
NuFace Pink for a Cause
$325
NuFace is by far one of the most effective anti-aging devices we have encountered at Beauty Guru. Convenient, compact and easy to use, the results are instantly visible and also improve with regular use. Ideal for anyone considering cosmetic surgery as well as for those who have already had procedures, NuFace is truly fantastic!
OPI Pink Shatter
$8.50
With five years of unwavering support for finding a cure for breast cancer, OPIís 2011 limited edition shade in Pink Shatter-Pink of Hearts is a beautiful reminder to raise awareness for breast cancer prevention. OPI also contributes $25,000 to the Susan G. Komen for the Cure cause, and now everyone can participate by purchasing this rather delightful varnish for as little as $8.50.
World Yachtís Benefit
Benefiting the Susan G. Komen Center, World Yacht is hosting its annual Beauty Brunch For A Cure on Sunday October 16th. The event features some of the beauty industryís best companies and finest figures, including Vincent Longo, Bliss 57 and Mario Badescu, to name but a few. This is truly an event not to be missed! World Yachtís Princess will be transformed into a luxurious spa experience, followed by brunch on the main deck. If you live in or will be in the New York area, donít miss this incredible opportunity to sip champagne and be completely pampered, while helping to support breast cancer research. For tickets and information log onto the website.