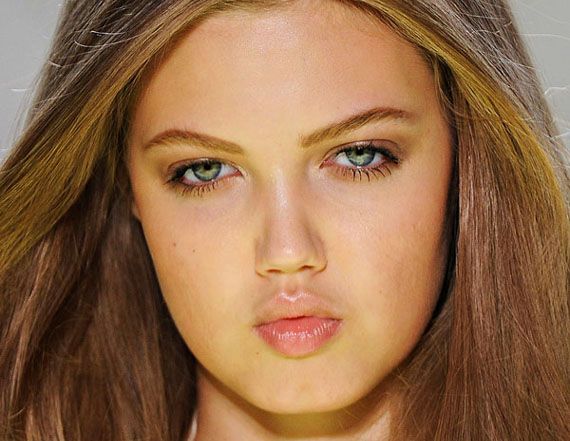 At its most basic, beauty begins with a pristine complexion. Whether a nod to the influence of minimalism or a means of directing focus to the clothing itself, bare face beauty was an omnipresent look at the international
spring/summer '12
presentations.
This aesthetic trend has evolved in a very polished, subtle direction that's most often complemented by boyish eyebrows as well as natural or monochromatic shades on the eyes, lips and cheeks. Variations on the bare look for the upcoming season include an emphasis on a refined semi-matte complexion, monochromatic color, bronzer, bare or nude matte lips, a continuing fascination with brushed-up, masculine eyebrows, graphic shapes on the eyes and slightly toned down '60s-inspired eyeliner.
Though minimal, this highly impactful approach was selected for s/s '12 by several designers who typically opt for more sexy or dramatic styles.
Donatela Versace
's models' (right) fresh scrubbed faces and softly curled, center parted hair were breathtakingly youthful. Other standout examples of this extremely popular and highly accessible trend were seen at Carolina Herrera—where Diane Kendal used soft earth tones with muted pink lips for a very pretty and wearable effect—and at Rochas, where the look was complemented with a coiffed up-do that contrasted nicely with the side-parted, low ponytails sported by Missoni's flesh-toned beauties. (Photo courtesy of Marcio Madeira/firstVIEW)
Designers who deviated from such extreme interpretations of bare drew slightly more attention to the eyes in the form of immaculate lashes and slightly '60s-inspired eyeliner. Jil Sander, who's always one of our favorite resources for beauty inspiration, and Dolce & Gabbana both adopted this eye-emphasizing approach with lots of fluttering and, at the latter, seemingly chunky lashes.
At Gucci, Pat McGrath added a somewhat more dramatic impact to the look with a strong, almost graphic monochromatic shape. Models strutted like raccoon-eyed, art-deco punks with Luigi Merenu's neatly pulled back bleached hair dyed in obvious contrasts of black that were reminiscent of Debbie Harry. At Rodarte, meanwhile, James Kiliardos chose dark ink blue shades for his version of this extremely visual style. On the softer side of the graphic spectrum, Philip Lim 3.1 featured a swipe of silver across the middle of models' eyelids for a surreal effect, while Thierry Mugler offset a bare and slightly contoured look with battery acid green lips and slicked back hair.
While the latter may be slightly extreme for some, the overall aesthetic message is clear: beauty is once again at its most accessible. Choosing an appropriate, wearable style has never been easier.
This post originally appeared at
JCReport.com
.