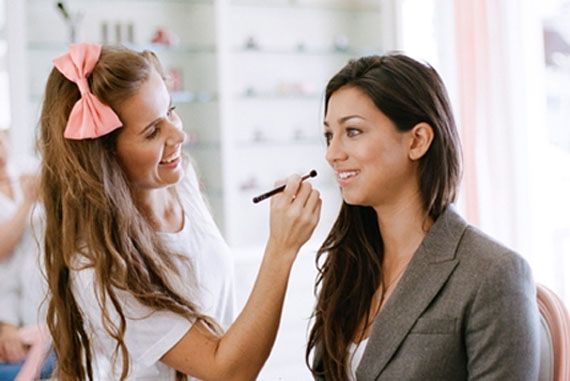 Photo Courtesy of Blushington Makeup & Beauty Lounge
In need of a pampering session this season but short on time? Iíve rounded up three quickie services at beauty hot spots around the country that will get you gorgeous in minutes flat.
Blushington Makeup and Beauty Lounge
Situated on Sunset Boulevard, Blushington just opened its doors this fall to win over L.A. beauties who seek expert
makeup applications
(the salon features six signature looks ranging from a natural sun-kissed glow to all-out glamour) in a beautiful space at an affordable price. Sound too good to be true? It is. The glossy, girly space is what dreams are made of, and at just $35 a pop for a full makeup application, you wonít break the bank for special occasions; or for any other day of the week when you feel like boosting your look.
Maria Bonita Salon
Nestled downtown in New Yorkís Soho neighborhood, Maria Bonita Salon is a well-kept secret for supermodels and locals alike. The salon is best known for its brilliance in Brazilian beauty techniques (hair straightening, color and, yes, waxing), but its cellulite massage deserves kudos as well. The 35-minute deep tissue massage improves blood circulation, smoothes out bumps and lumps in the skin (as you wear a stretchy unitard-like suit) by breaking up fatty deposits and expels excess water targeting the lymphatic system. This treatment is also great for frequent travelers or those who spend much of their time sitting at a desk.
S.H.A.P.E.S Brow Bar
With numerous locations throughout the country, S.H.A.P.E.S Brow Bar is a convenient and efficient place to solve your brow woes on the go. Stop in, sit down and have your brows transformed with impressively flattering arch you never thought possible. Youíll be in and out in no time at all with a pretty, perfectly-groomed look.