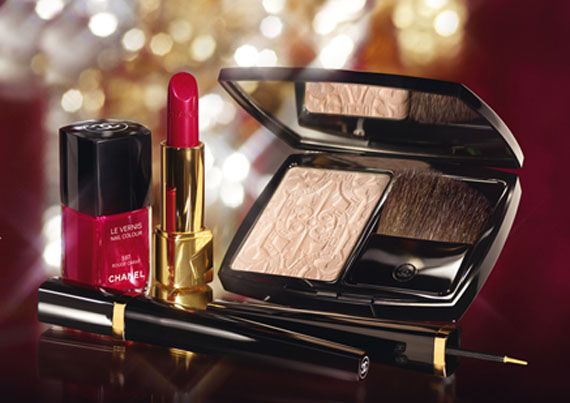 Photo Courtesy of Chanel
Holiday is by far one of the most important seasons for top brands to exhibit their enticing, limited edition color collections during this crucial peak retail season. And in the highly competitive cosmetics industry, it is also a time for gorgeous color cosmetics. On offer are some of the most desirable and dazzling holiday collections that suit all levels of taste for beauty and sophistication.
Indispensable
beauty products
such as lipsticks, compacts, mascara and the like are all very reasonably priced and make ideal stocking stuffers. In this issue of Beauty Guru, we feature the very best of Holiday 2011 beauty—from glimmering gold to gorgeous holiday gem tones, this is truly the season to celebrate beauty.
Chanel: Collection Les Scintillance de Chanel
Chanel's Les Scintillance de Chanel – Holiday 2011 is quite simply the most perfectly chic statement—and exactly what one would expect from the iconic luxury brand. Gold is the strong message for the season and Chanel's approach is simply elegant yet highly impacting. Standout items from the limited edition series are the Lumi?re Sculptée Highlighting Powder, Ligne Extr?me Or – Liquid liner in the most beautiful metallic gold, Rouge Allure Luminous Satin Lip color in Famous and our absolute favorite item: Les Tissages de Chanel blush in Tweed Brun Rosé. For more information about Les Scintillance de Chanel log onto the website.
Chantecaille
Chantecaille is all about classic, understated and sophisticated beauty. Its Holiday 2011 Evening Duo Eye-shadow palette is encased in the brand's signature silver metallic case, adorned with Swarovski Crystals, and is truly a testament of the Chantecaille's purist philosophy of chic and timeless beauty. Other favorites from the range are Poudre de Perle, a luminous finishing powder, Faux Cils Longest Lash Mascara and Compact Soleil, an extremely lightweight bronzer. Log onto the brand website for more product information.
Dior: Les Rouges Or
Dior is always on the mark when it comes to innovative formulations and for maintaining a unique and highly sophisticated approach to color. And the Holiday 2011 Les Rouges Or collection is truly exceptional. Inspired by the house's rich history, Dior's creative director Tyen added the shimmering and seductive effects of gold to the brand's signature product range. The 5 Couleurs eye shadow palette is a must-have and the limited edition Rouge Dior lip color shades are each sublime. Check out the website for more product information and for some amazing exclusive offers.
Laura Mercier
Laura Mercier is recognized for practical and highly effective products that completely embrace individual beauty. Mercier's Holiday 2011 collection consists of the most essential and cleverly coordinated palettes, color portfolios, as well as a travel brush set and much more. A simplified approach to beauty has always been the strength behind this award-winning brand, which consistently delivers superior, user-friendly formulations. These are the products that you'll reach for time and time again. Our top picks for the season are the limited edition Kohl Eye Pencil set, Luxe Eye Portfolio and Luxe Colour Portfolio. Also just launched for Holiday 2011 is the incredible Foundation Primer Radiance, an absolute must-have product for maintaining a sheer, glowing, flawless complexion! For more great product information log onto the brand website.
Nars
Among "artistry" brands, Nars has always translated color in a very sophisticated yet approachable way. The selection of shades for Holiday 2011 are absolutely beautiful and yet extremely wearable. Our top picks for the season are G-Spot Multiple Stick (the perfect soft rose with gold undertones), Arabian Nights eyeshadow trio (perhaps the most beautiful use of rich purple tones we've seen anywhere) and Joyous Red Lip color (a rich red with amber undertones). Check out the website for more information.
This post originally appeared at
JCReport.com
.