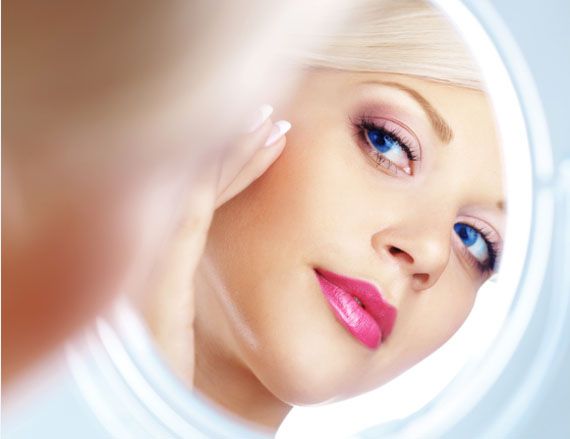 Now that the cooler weather is upon us, itís time to make sure you are staying up on your
skin care regimen
. These new products will have you looking and feeling your best for a fun night out on the town.
When it comes to aging, there are many anti-wrinkle creams on the market, but just how effective are they? While the thought of needles may make you cringe, there is now a pain-free option for those who have considered cosmetic injections but don't want the discomfort often associated with Botox.
The WrinkleMD Eye System
offers the same wrinkle filling ingredient doctors use and infuses it into the top layers of your skin rather than traditional creams and serums that only sit on the surface. Using ion infusion technology, this system relies on a microprocessor to deliver hyaluronic acid to the skin in just 40 minutes. There is a slight tingling pulse that is delivered upon use while the skin fills in the wrinkles. The results are immediate and you will be left with firm, tightened skin without the appearance of fine lines and wrinkles around your eyes. Retail price is $129.
Take your day look and quickly change it to evening with
GloMineralsí
smoky eye kit
. The four-color kit creates a sultry, smoky eye with an easy application guide for first-time users. Use the light beige shade as a base eyeshadow from the lash line to the brow. Follow that up with the light brown, applying it to the lid stopping just beneath the brow bone. Next, apply the dark brown in the outer part of the crease. Finish it off by lining the top and bottom lash lines using the black. If you are going for a sexy look then just smudge gently. Retail price is $36.
If you are looking to straighten your hair, by now you have heard all about Keratin products. From blow drying to flat ironing to get that sleek appearance, Keratin now offers a healthier way to get that look without all of the damage. Enter
Keratin Complex Infusion Keratin Replenisher
. Simply wash your hair and apply for 20 minutes before blowing your hair dry to repair and revitalize hair. The Keratinís high pH replenisher opens the hair cuticle to enrich it with proteins and emollients, which are then closed into the cuticle, providing further nourishment. Retail price is $40 (3.4 fl. oz.) or $125 (16 fl. oz).
Redken has recently introduced a mild textured control
liquid pomade
that is ideal for the polished gentleman with longer, layered hair. This flexible product provides a natural shine with the texture and hold of a pomade in a non-sticky, easy-to-use product. After a quick application, you will get instant definition and shape without the difficulties associated with traditional hard to wash out tacky pomades. Retail price is $16.
Looking good and feeling healthy comes from within and the folks at iRenew have designed a
bracelet to support balance
, endurance and strength. Made of 100% silicone, these bracelets use a technological process of Selective Frequency Resonance to promote an active lifestyle through positive attitudes toward health and wellness goals. We love the non-metallic sports bracelet (which is available in five different colors) and so does Boston Celtics Point Guard Rajon Rondo, who teamed up with the company to wear it during the 2010-2011 basketball season. They also make a silicone rubber and stainless steel bracelet that can be adjusted to fit any size wrist. Retail price is $19.99.