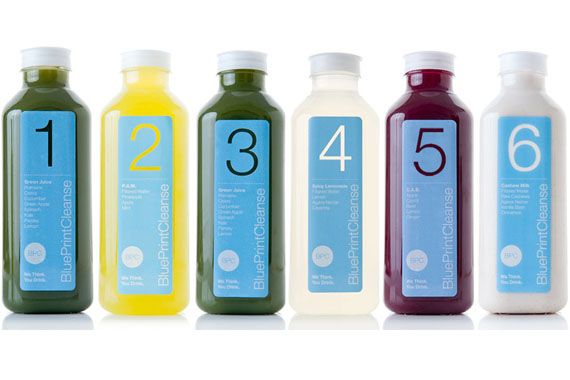 Photo Courtesy of BluePrintCleanse/Evan Sung
Now that the holidays are over and New Year's resolutions made, it's time to get into shape and lose the extra weight we put on over the past couple of months. To get yourself on the road to a fresh start, it's important to cleanse your body of toxins so you can start feeling good from the inside out.

BluePrintCleanse just might be the perfect solution to get you started. The company focuses on making raw foods and juice cleansing adaptable into even the busiest of lifestyles. We all know how important it is to stay away from processed and artificial foods but it's sometimes much easier said than done. BluePrintCleanse offers a healthful alternative by infusing the body with fresh, nutrient-packed fruits and vegetables.


If you have always wanted to try a cleanse, they offer three different variations depending upon your experience. As a first time user, we tried the Renovation "gateway cleanse," designed for beginners. The juice and raw food program is designed to detoxify and purify the body and is the first line of juice cleanses to offer varying levels of intensity depending on one's dietary habits and history. Since its inception, the brand has gained quite a following among those looking for a healthful alternative, including numerous celebrities like Blake Lively and Olivia Wilde.


When you first start the cleanse, it is recommended to begin with a cup of hot water to wake up your system. You need to wait at least one hour between each bottle, drinking the last one at least two hours before bedtime. Throughout the day, be sure to drink as much water, green tea or flavored tea as possible to continue flushing all of the toxins from your system. With the juice-only cleanse, it is important to refrain from eating any food during this period to obtain maximum results. If you do feel the need to cheat, be sure it's a healthy snack like celery, avocado, cucumber or vegetable broth.

Each juice bottle is numbered for your convenience so it really is simple to follow in sequence. The individual BluePrintJuices are fresh pressed locally every day and named for their vibrant colors, including Green, their signature vegetable juice, Red: Carrot Apple Beet juice, Yellow: Spicy Lemonade, White: Cashew Milk and Gold: Pineapple Apple Mint.

My husband and I both tried the cleanse simultaneously to compare our results. The first day, admittedly, was the most difficult for me abstaining from solid food. My husband, who regularly drinks protein shakes, found it less difficult but we were both committed to seeing it through the three days. By the time the second day came around, I was less craving solid food and feeling more energetic. On day three with the end in sight, I couldn't believe I had actually done it. Feeling much better, I was wondering how I would be able to maintain a healthy lifestyle now that I was about to complete the cleanse.

It is important not to shock your system back into reality once you have finished the cleanse. In other words, don't head to the nearest fast food restaurant for an overindulgence. The best part about it is you actually won't be craving the same food you ad prior to the start. Instead, after working hard to complete the cleanse, you will want to eat some healthier foods. The day after your cleanse is completed, be sure to introduce light foods into your body. For example, start off with some fruit for breakfast, a light salad for lunch and another light salad with cucumbers for dinner. It is important to ease into introducing food to your system the day after the cleanse.

Our favorite drink was the 'Green,' which we were glad to see can be purchased after the cleanse to maintain a healthy lifestyle, supplementing the drink with a regular diet. Now that we are no longer novices to a body cleanse, we are looking forward to moving on to the second phase of the BluePrintCleanse. Trust us, at the end of the cleanse, your body will truly thank you.

The Level 1 Blue Print Cleanse retails for $195 for a three-day cycle. For more information, visit BluePrintCleanse.com.