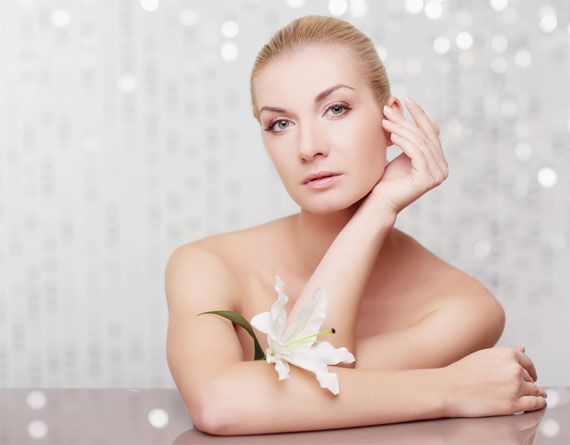 Fueled by advancements in medical science and technology, the cosmetics industry has seen some rather significant
anti-aging products
over the last decade. While many pioneering brands have maintained a presence in the vast and highly competitive marketplace, new brands are constantly emerging with promises to address everything from frown lines to crow's feet to stretch marks.
In time for a fresh New Year's beauty regimen—and as part of our ongoing search for the most effective products out there—we turn our focus this week on some rather unique and highly effective anti-aging products. From herbal supplements to highly specialized topical creams and much more, the following suggestions are sure to deliver the most impressive results.
Apothederm
Targeting specific needs such as stretch marks and crow's feet while utilizing a unique patented SmartPeptide technology system, Apothederm has developed some of the most effective products we've encountered. Apothederm's Stretch Mark Cream and Firming Serum receive our top ratings, but the brand offers a full range of other advanced, highly effective anti-aging and brightening skincare products. For more product information log onto the brand website.
Dior Capture Totale
Dior is at the forefront of research and technology across most categories, but their skincare products are truly innovative. An essential addition to the brand's extremely successful Capture Totale collection is the One Essential series, which includes the amazing Ultra-Detox Treatment-Mask—perfect for a deep New Year facial detox. Infused with a higher concentration of Dior's exclusive active ingredient, Detoxynite, the mask is extremely effective at drawing out toxins and impurities from the skin to reveal a radiant, glowing complexion. For more information on Dior's amazing selection of anti-aging products from the Capture Totale range, log onto the brand website.
Elan Veda
Our most recent discovery, Elan Veda, is based on the ancient principles of Ayurveda. Created largely for health and well-being, the brand also offers some very impressive and effective anti-aging products. Elan Skin Renue, for instance, is an anti-aging face oil that can be used daily as well as under make-up, while Elan Triphala works as a potent rejuvenating and detoxifying supplement that's ideal for a new year detox and Elan Healthy Hair is a supplement that produces impressive results for thinning, damaged hair. For more visit ElanVeda.com
Rodial
Created in 1999, Rodial is a pioneering brand in the anti-aging movement. It offers perhaps one of the most extensive lines of highly specialized products to address and target specific aging concerns—from wrinkles to cellulite and much more. Based on the principle that proper skincare can be an effective alternative to expensive and invasive cosmetic surgery and procedures, Rodial has invested years in breakthrough research on the most difficult to address issues. Today the brand continues to thrive globally with exceptional products that are highly effective and provide instantly visible results, which improve with continuous usage. Rodial's most recent addition to its range is the Glamoxy series, including such amazing products as the Snake Serum Pen which plumps the skin, minimizes lines and wrinkles as well as inhibits facial contractions. For more products and information, log onto the website.
Nip+Fab by Rodial
While beauty products can be rather costly—particularly so in the specialist anti-aging market—Rodial's Nip+Fab line is an effective anti-aging skincare line that is available at a mass market level. Nip+Fab by Rodial is conveniently available at national retailers and is extremely affordable. Consisting of unique and highly specialized formulations that address the unpleasantries of anti-aging, Nip+Fab receives our highest ratings for both innovation and affordablity. We love the Dark Circle Fix, Sheer Make-up Fix and Frown Fix i particular. For more information, log on to the Nip+Fab website.