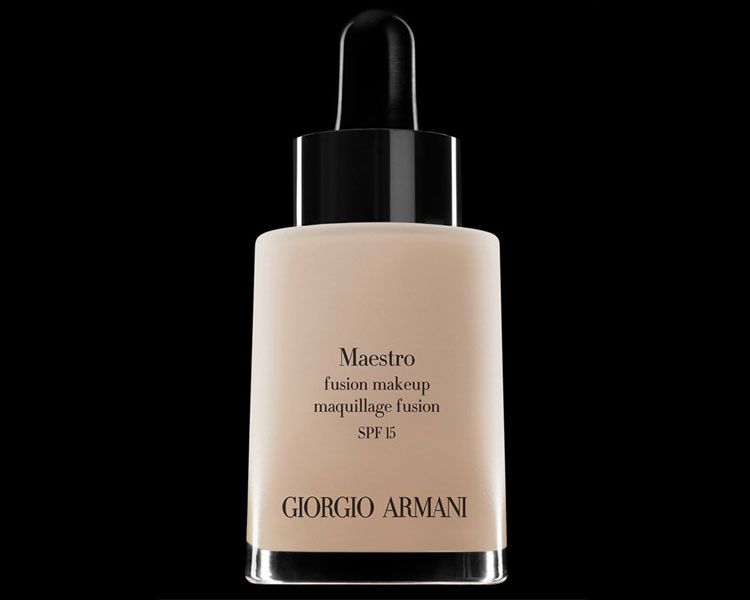 Photo Courtesy of Giorgio Armani Beauty
The latest in
fashion news
reveals that Giorgio Armani Beauty is getting ready to release a new formula called Maestro Fusion Makeup SPF15. The luxury fashion brand spent eight years researching the formula for this foundation, and we have high hopes that it will show. Constantly on the quest to meet women's high expectations, Armani calls this product the "complexion perfector," which will be available on U.S. counters on September 15.
Unlike other foundations that are made up of 20 percent water and 80 percent oil, the new product by Armani uses 60 percent dry oils and 11 percent pigments with a new technique to make a desirable weightless texture. The water-free, powder-free formulation makes the Maestro unlike any other makeup, which the brand is very proud of. Linda Cantello, International Makeup Artist for Giorgio Armani Beauty, explained to
WWD,
"The patented fusion technology powers the high-slip fluid with smart pigment technology… It is an ultra-fine oil-pigment suspension designed to perfect the skin."
The result of the technology is a makeup that adapts to the user's natural skin tone, rather than adding color on top of it. How, you ask? The product contains five volatile, semi-volatile and non-volatile oils that each evaporate at different rates, giving maximum color and moisture to skin throughout the day. These five oils were selected from a group of 100 that the brand evaluated closely for top volatility, nutrition, and blending elements, to ensure optimal results and versatility.
Industry sources are already estimating that the Maestro will do upwards of $10 million in retail in its first year in the U.S., even though Armani executives have declined to comment on their own sales projections. Though only nine shades will be sold globally, 12 will be available in the U.S., each 1-oz. Maestro retailing for $62. It will be available in the U.S. in about 130 specialty stores, including Saks Fifth Avenue.
To learn more, visit
GiorgioArmani.com
.