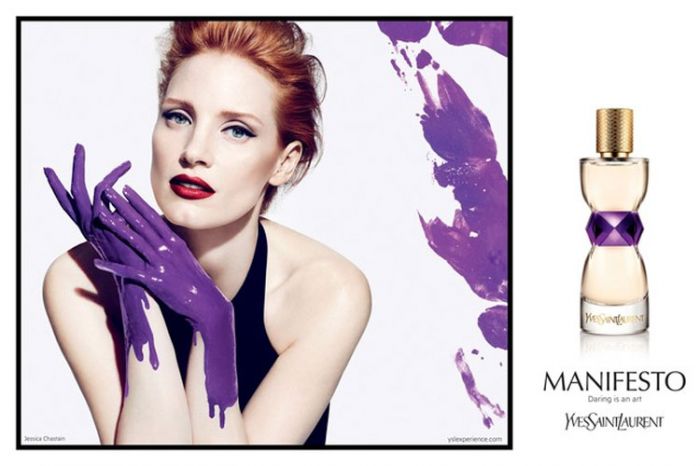 Photo Courtesy of Yves Saint Laurent
Do you ever experience a trigger of emotions or memories when you smell a certain scent? That's the case for actress Jessica Chastain, who was announced today as the new ambassador of
luxury cosmetics
brand Yves Saint Laurent's newest women's fragrance, Manifesto.
Chastain has apparently had a connection with the brand from a young age, as she told
WWD
that she had an aunt who would lend her dabs of the Opium fragrance when she was a young girl. It was by channeling her aunt's mature and womanly aura while wearing her perfume that Chastain learned to use fragrance as a tool. These days, she wears a different scent for each role that she plays, encouraging herself to get into character through the emotions and attitude that the specific scent elicits. She's also learned to love associating fragrance with art.
The Manifesto campaign, Chastain told
WWD
, is the first time she's played herself in front of the camera — a new challenge for the redhead beauty. "Having Jessica Chastain be the ambassadress of the fragrance — it's a very vulnerable thing," she said. "It's not something I really thought that I would do before until, of course, Yves Saint Laurent called."
We're glad she went out of her comfort zone, because Chastain is stunning in minimalist makeup and a simple black halter, truly representing "a declaration of contemporary femininity," which is exactly how International General Manager of Yves Saint Laurent Beauté, Stephan Bezy, described the new women's fragrance. Bezy agrees that Chastain nailed her role for Yves Saint Laurent, saying that she "has the luminosity, charm, grace and power — the audacity, as well — to embody the fragrance."
The scent is a woody floriental, including notes of jasmine, white corollas, lily of the valley, blackcurrant, vanilla, tonka bean, cedar wood and sandalwood. The brand is targeting a 30- to 35-year-old demographic to celebrate modernity, audacity and youthfulness. The bottle represents all of these facets as well, mixing curvaceous and linear forms, complete with an amethyst-colored central section.
Manifesto will be available in 30-, 50-, and 90ml. eau de parfum sprays for $66.35, $94.60, and $124.10, respectively. Though YSL executives wouldn't discuss sales projections, industry experts believe Manifesto will generate $73.7 million in first-year wholesale revenues. It will be introduced in France on September 10 and will make its debut in the rest of the world in March 2013.
For more information, visit
YSLbeauty.com.
.