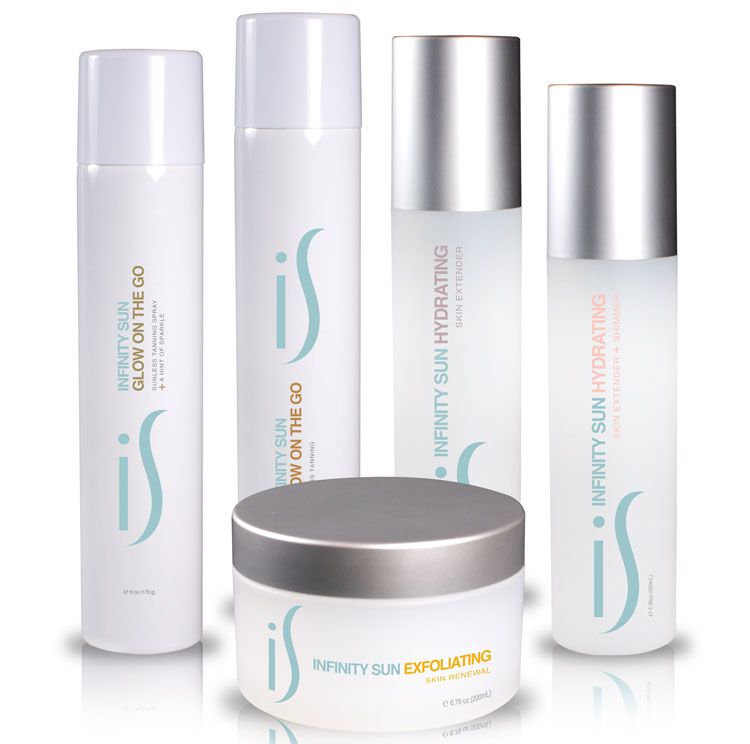 Photo Courtesy of Infinity Sun
With the summer season coming to an end, the sunís rays will be losing strength and youíll soon be saying bye-bye to your beautiful bronze. Luckily, there are plenty of
luxury beauty products
out there to help you keep your tan as long as possibleó one of those being the sunless tanning line from luxury brand Infinity Sun. The label known for its revolutionary sunless bronzing equipment has a line of spray products that will help you extend your summer glow well into the autumn.
Though we know youíll want to jump the gun on getting your sunless tan on, indulge in the Infinity Sun Exfoliant first. Pineapple fruit enzyme is a key ingredient in this body masqueóit polishes and exfoliates, removing dead skin to leave only healthy skin cells that are ready to soak up the (bottle of) sun. Making sure you scrub with the $35 exfoliant before you tan will also ensure that the tinted product goes on evenly, leaving a flawless and long-lasting tan on healthy skin.
Because everyone these days knows how harmful tanning beds can be, Infinity Sun hopes to become the next generation of sunless tanning by focusing on providing healthy alternatives to UV rays. If you donít have room in your home for one of their sunless tanning spray booths, The Infinity Sun Glow on the Go is a sufficient (and portable) alternative. The all-natural, anti-aging aerosol revitalizes your skin while also giving you a beautiful tan that will last up to seven days. The $40 bottle contains natural ingredients and is enriched with essential oils, antioxidants and botanicals that promise to leave your skin soft and radiant.
To keep your sun-kissed look for as long as possible, try the bottle of Infinity Extend. The super-hydrating serum promises to extend your sunless tan by an additional 2-3 days. Antioxidants and botanicals join teams in this $40 bottle to keep your skin soft and silky-looking long after the pool closes and the days start getting shorter.
To view the full collection of products, visit
InfinitySun.com