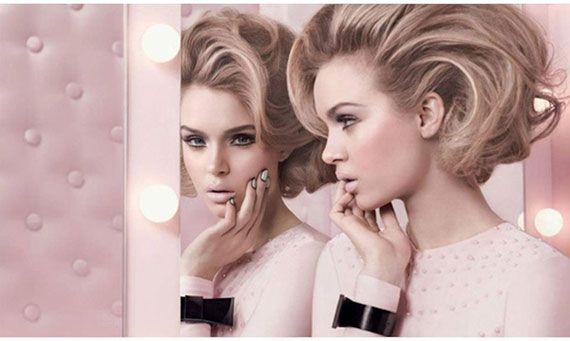 Photo Courtesy of MAC Cosmetics
If you're crazy about color cosmetics, then the latest collection by
luxury makeup
company MAC Cosmetics is probably at the top of your holiday wish list. MAC's Glamour Daze Collection is specifically for the holidays, and we couldn't be more excited about it. The complete line is multi-dimensional, as always, with an eyeshadow portion that practically makes up half of the collection. Nonetheless, the cosmetics industry pillar did not disappoint with these new additions, whose color palette mimics the sequins on your sprarkly New Year's Eve dress.
A whopping eight new limited edition extra dimension eyeshadows lay the foundation for the Glamour Daze collection. The formula used in these shadows was first introduced last March, and is a cross between a liquid and a powder. Eyeshadow enthusiasts will be delighted with the versatility of these shadows— they go on with the smoothness of a cream, have the blending characteristics of a liquid, but wear like a classic powder. Genius!
Suitable for wet and dry use, these shadows go on easily and are guaranteed by MAC to last for six hours on the lids. The shimmery finish shades include "Evening Grey," "Stolen Moment," "Stylishly Merry," "Tall, Dark, & Handsome," "Divine Blue," "A Natural Flirt," "Ready to Party," and "Round Midnight." You may be able to guess from their names what shades they indicate— this collection ranges from a soft peachy nude to a pearly black, with even a mid-tone aqua and dusty violet thrown in the mix. Each .04 oz shade sells for $19.50.
For the lips, MAC gives its consumers a range of lipsticks and glosses— or glasses, as the brand likes to call them. Five hues make up the lipstick line, including peach, pink and plum tones in a variety of textures. From the brand's renowned Cremesheen formula to frosts and glazes, the textures are versatile to meet the standards of any holiday look. "Beauty," "Innocence," "Outrageously Fun," "Glamourdaze" and "Dramatic Encounter" are among the $16.50 tubes included in this collection, which range from a pale, cool pink to a soft coral and even a deep purple. The brand's lipglass line has a smooth formula with the stickiness that is typical of gloss in order to allow for a long wear. These $16.50 shades range from a sheer soft pink to a rich purple— some with pearl and shimmer added to them.
Also included in the collection are three powder blushes— light dirty peach, mid-tone pink, and dusty rose tan shades are available for $22 each. Consumers also seem to love the extra diminish skinfinish: multidimensional skin shimmers that are available in a soft white gold and a soft peachy nude for $29 each. Four new nail lacquers are included in the line for $17.50 each, and three gel eyeliners ($16.50 each,) black mascara ($20,) and four different eye pencils ($16.50 each) will complete your eye look.