Photo Courtesy of Marni
One reason why we love Marni is that from season to season, the fashion house always knows what it's doing to stay on top of (and even create) the trends. This year, we're learning that this characteristic will be taken off the runway and onto beauty counters in the form of the
luxury brand
's first fragrance for women. With this new project, the Italian design house that is known for innovation and new ideas gets to take its creativity to a new level. Marni's main goal is to meet the satisfaction of their consumers— and so far, it sounds like the brand knows just how to do that.
The label, along with its licensing partner, tapped into the consumers themselves to see exactly what it is they want out of designer fragrances. The results? Turns out that what buyers really want from their favorite designers is a scent that is truly innovative and unique— something totally different from the monotonous celebrity fragrances that contain the same department store scent. Surprisingly, with this information, Marni went with a commercial floral-fruity scent, but gave it some spunk with a blend of raw spicy and woody notes. Intense rose oil and incense give the juice an unexpected element that is both modern and bold.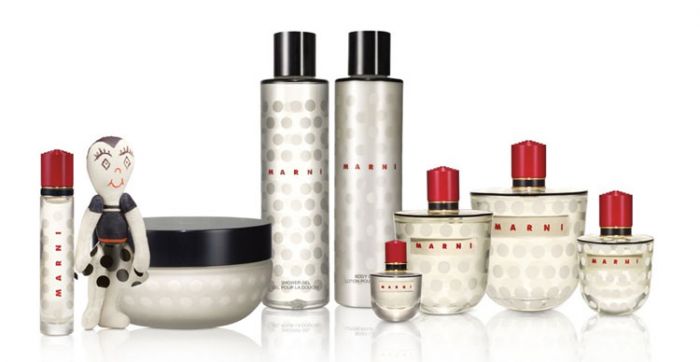 But it isn't just the inventive scent that has people talking— Marni took its visionary to the fragrance's bottle, as well. Unlike most perfume flacons, the shape of the bottle resembles a vintage bottle that Marni's creative director Consuelo Catiglioni saw at a flea market 20 years ago. It also has the dots that are synonymous with the Marni brand, and a small cap that makes a play on proportions. "The perfume reflects Marni's fashion, certainly," said Castiglioni. "Because it's a perfume that's quite individual, that doesn't evoke anything in particular. It's for a woman who dresses for herself, who doesn't follow trends but is sophisticated and also maybe a little eccentric."
Starting in February, Marni's self-titled fragrance will be available in 65-ml. and 120-ml. eau de parfums for $105 and $155, respectively. A $50 purse spray, a 200-ml. body lotion, shower gel and body cream will also be available. "Marni" will be available in only about 2,000 doors around the world, and industry sources estimate that it will do about $25 million in its first year at retail, and about $50 to $75 million within three years.