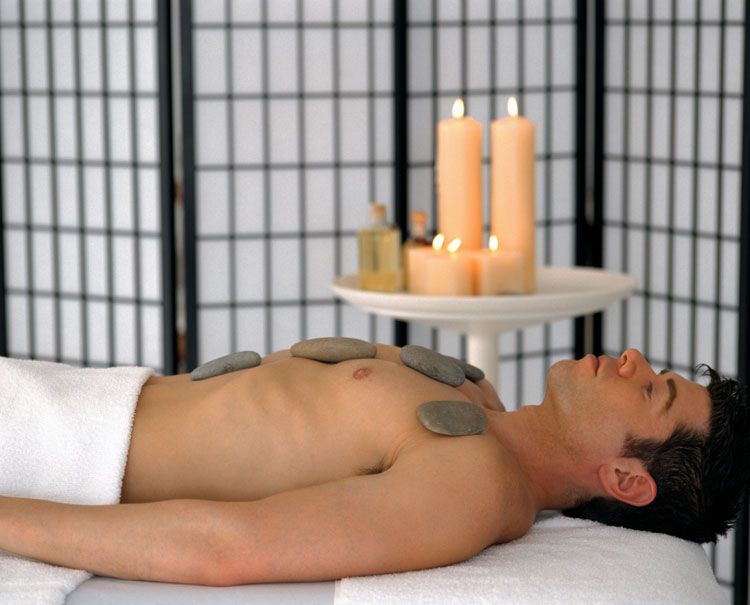 Photo Courtesy of Creatas/Thinkstock
Give the man in your life the gift of
luxury spa treatments
this holiday season (even if the man in your life is you!) The secret's out, the stigma's long gone, and the time for men to proudly say, "Yes, I deserve to be pampered!" has arrived. Need inspiration? Check out the gentleman's offerings at popular spas from coast to coast.
Bliss, the chic and clever spa brand found in most W Hotels, offers a full range of men's services; including the manly-cure, a 30-minute "macho manicure,"  the Sole Man pedicure, extreme sports massage and the homme improvement Triple Oxygen facial— all of which are great for aiding recovery after a big night out.
Photo Courtesy of Steve Mason/Digital Vision/Thinkstock
Canyon Ranch SpaClub at the Venetian in Las Vegas offers what we hope will soon be standard in all Canyon Ranch locations: a private Barber Suite that offers all men's barber services— including traditional straight razor shaves— with modern masculine amenities like a large screen TV for guests to catch the news or the game.
Photo Courtesy of George Doyle/Stockbyte/Thinkstock
The JW Marriott Desert Springs has one of the biggest, most bustling, most obviously unisex spas we've ever seen. Men and women mingle in unisex common spaces as though it were some sort of very posh pool party— which it almost is— and there are no qualms among the mostly Californian clientele about getting fully and lavishly pampered all day long. But for men who are new to this scene and don't want to ease in with a couple's treatment, get the most macho thing on the menu: a Quarter-Back Massage. This 60-minute therapeutic massage was specially designed by incorporating techniques used on actual pro players.
Photo Courtesy of iStockphoto/Thinkstock
Another mainstream hotel with a traditionally businessman clientele that's now incorporating men's offerings into many of its spa menus is the Hilton. The treatments depend on the property and the location: for example, the Pointe Hilton Squaw Peak in Phoenix offers a Gentlemen's Pore Minimizing Facial. While in general "manly men" shy away from facials, this treatment makes a lot of sense, considering how many of the Hilton's clients probably spend hours out on the golf course and need to help their sunburned faces recover from the unforgiving desert sun and incredibly dry air.
Photo Courtesy of Steve Mason/Digital Vision/Thinkstock
In Manhattan, the new AIRE Ancient Baths facility, modeled after an ancient upscale bath complex, offers massages by 15-minute increments in an ambient yet unisex setting that has more in common with the Baths of Rome or Greece than the mainstream spas of today. Before and after massages, men and women mingle in the various pools downstairs, all wearing proper swim attire and drinking cups of herbal tea in an unusual yet very relaxing setting.
Photo Courtesy of iStockphoto/Thinkstock