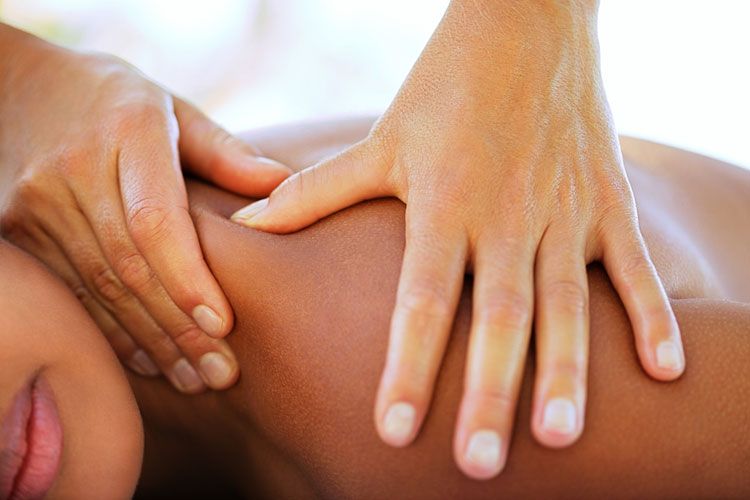 Photo Courtesy of Jupiterimages/Comstock/Thinkstock
If you've found yourself feeling stressed or anxious lately, and you've tried everything from increasing your exercise activity to getting more Z's at night but are still feeling aches and pains, it's possible that you could benefit from a massage at your local
luxury spa
. But since the practice dates back tens of thousands of years and has since generated a number of techniques, how could you possibly know which one is best for you out of the several that are available today? Instead of settling for the standard 60-minute back massage, opt instead for a technique that will cater specifically to your needs. Read on to find out exactly what type of massage is best for you.
Swedish
Swedish is the most common type of massage— a technique that is performed by using various massage strokes on skin that has been soothed with massage oil. The therapist uses a range of different strokes, combined with concepts of anatomy and physiology to decompress muscle tissue, release tension, and break up muscle knots. This is the most standard massage offered at most salons, so if you're looking into getting your first massage or don't get them very often, this gentle technique may be the best option for you.
Photo Courtesy of George Doyle/Stockbyte/Thinkstock
Deep Tissue
Deep tissue massage is a form of the Swedish massage that uses more pressure and is therefore a bit more uncomfortable than a Swedish massage. Aside from working on the usual muscles, deep tissue massages also target the connective tissue. While using many of the same movements and techniques as the Swedish technique, the therapist applies more intense pressure specifically to release chronic muscle tension or knots. This type of massage is best for those patients who have ongoing muscle tension and can endure more pressure in order for it to be released.
Photo Courtesy of iStockphoto/Thinkstock
Hot Stone
Hot stone massage is another popular technique because it is both relaxing and therapeutic. The masseuse incorporates warm, rounded stones into the session by placing them on your belly, hands or back to help warm your muscles while performing a gentle massage on other parts of the body. Other ways the masseuse incorporates the stones into the session is by using them as an extension of his or her hands to knead the warm, smooth stones into the muscles. Because the heat of the stone relaxes the muscles, the therapist is able to work into the muscles and joints without using too much pressure, which makes hot stone massages ideal for people who have muscle tension but prefer a lighter massage.
Photo Courtesy of George Doyle/Stockbyte/Thinkstock
Shiatsu
Shiatsu is a form of massage that has gained more and more popularity in recent years. The word "shiatsu" itself is Japanese for "finger pressure"— and that's exactly how the technique is performed. By using their fingers, palms, elbows and feet, the masseuse applies firm pressure to points of tension in the joints of your body. If you plan on getting a shiatsu massage, be sure to wear thin but loose, comfortable clothing and expect to lie flat on the floor, a beaded bat, or a futon while the massage is being performed. Unlike Swedish massages, which aim to relax muscles through performing different strokes, Shiatsu massage relieves muscle tension by applying pressure to acupuncture points, so the Shiatsu method is best for those who can endure slight discomfort while the technique is being performed.
Photo Courtesy of iStockphoto/Thinkstock
Thai
Thai massage differs greatly from the other techniques in that it requires much more from the patient than simply lying face down on a table. After changing into loose, comfortable clothes, the massage recipient lies on a mat on the floor and is guided into a variety of yoga-like positions. Once in the position, the masseuse leans on the recipient's body and applies firm, rhythmic pressure. Thai massage is more energizing and rigorous than other forms of massage, but is said to provide many benefits. Because it requires more of you than other massage techniques, Thai massage is not recommended for those who are pregnant, sick, or who have just had surgery, chemotherapy, or radiation. Thai massage is an ideal option for those who can perform different poses and wish to reduce stress, increase flexibility, and improve range of motion.
Photo Courtesy of iStockphoto/Thinkstock