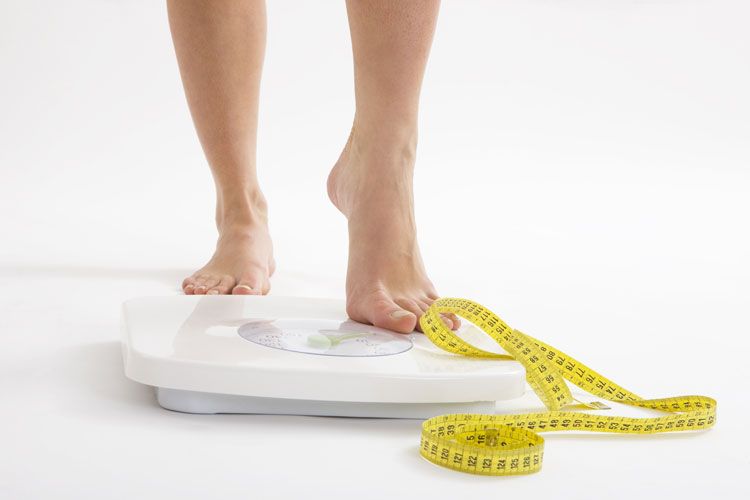 Photo Courtesy of iStockphoto/Thinkstock
It's a New Year, and let's just tackle the one resolution that has been mercilessly shoved down nearly every American's throat: (not literally, of course, that would be too many calories) losing weight. A concept so simple in theory– just work out more and eat less– but it's so overwhelming when it comes to actually staying "on track." Group weight loss meetings can be very public and don't always work with your schedule— and more often than not, attempting to lose weight on your own leads to cheating (one
sliver
of cake won't hurt, right?) So why not embrace all that technology has to offer? You're on your phone half of the day anyway, so why not improve your
health and wellness
while you're at it? We've compiled some helpful tips on how to use weight loss and health apps to get the results you want.
First thing's first: don't use the app as a crutch. There are plenty of very cool and effective apps available today, but that doesn't mean that using the technology alone will be enough for you to reach your goal. Be sure that the high-tech assistance is combined with proper nutrition and exercise, and remember: just like there is no magic pill for weight loss, there's no magic app, either.
Like most things in life, you can't use the app half-heartedly. Bonnie Spring is a professor of preventive medicine at Northwestern University's Feinberg School of Medicine— she's also a lead investigator on research conducted to determine if smartphone apps that aid weight loss actually work. "The app is important because it helps people regulate their behavior, which is really hard to do," Spring explained to the UK's
Daily Mail.
One thing that many are guilty of when dieting is not holding themselves accountable. When using a diet app, make sure you're honest with it, but more importantly, be honest with yourself. "Most of us have no idea how many calories we consume and how much physical activity we get. The app gives you feedback on this and helps you make smart decisions in the moment," Spring said. The smartphone diet apps give you an opportunity to log in all food intake as well as exercise, and in doing so (and being honest about it,) you can avoid dieting blunders and develop a healthier lifestyle.
Similary to choosing an effective diet or exercise routine, it's important that you find the health app that is right for you. Like dieting, there are many options that can leave you so overwhelmed that you might find yourself succumbing to the Häagen-Dazs quicker than you can say "New Year's Resolution."
Go into the search with a plan. What are you looking to get out of the app? Perhaps you are you looking for an aid to help you track your calories, or maybe you want to build muscle and record your workouts. If you are looking to realize your goal by having a calorie budget and regularly entering your food and exercise stats,
MyFitnessPal
may be an option for you. For runners,
Nike + Running
is a great way to display your completed route— a color-coordinated map shows your speed in different areas and "friends" cheer you on along the way. Lastly, if you need an app that will tell you
exactly
what to eat and when, then you may want to check out
intelli-Diet
, which creates a daily food plan for individual users.
Finally, find a buddy to diet or work out with you. "In the realm of dieting, there is evidence that social support is a positive factor influencing weight loss," said Kenneth Schwarz, PhD, in a WebMD
article
. Schwarz should know— he and his wife, Julie, co-wrote
Maria's Last Diet: How to Break through the 15 Obstacles to Achieve Diet Success.
Simply find a friend, find an app, and use them both to push yourself and ultimately succeed. Good luck!