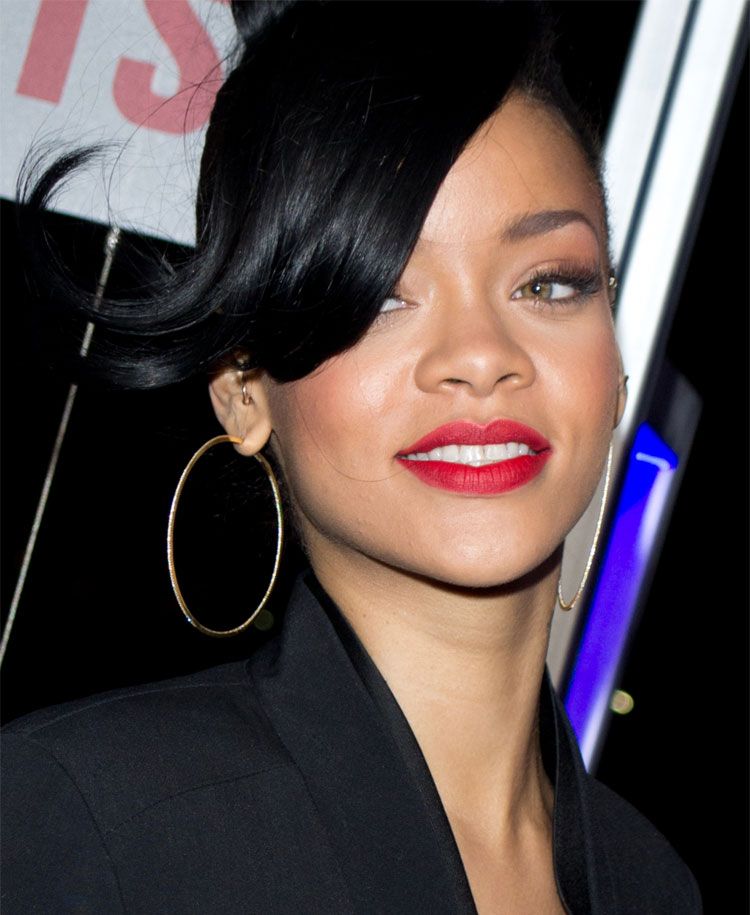 Photo Credit: Liam Mendes/Wikimedia Commons
Grammy-winning pop star Rihanna turns 25 today, and in light of her worldwide success, she has every reason to celebrate. Aside from the triumph of her latest album,
Unapologetic
, it was just announced that Rihanna is partnering with MAC Cosmetics to release several
luxury makeup
selections for 2013. Not only is she gorgeous and a talented performer, her creative talents seem to extend to entrepreneurship and makeup design, as well.
Rihanna is a bit of a chameleon— over the years, we've seen her change her hair color often and sport a variety of different fashion and makeup styles. Known to rock a bold lip color more often than not, teaming up with
MAC
to create her own line was apparently an easy decision for the singer. "When you think of makeup, the brand that pops into your mind — for something legit — is MAC," she told
WWD
. "I've been using MAC on tour for such a long time that it was a natural fit for me. I have always loved makeup, and I always said that if I do it, I want to do it with a credible brand."
The singer's favorite MAC lipstick, "Ruby Woo," is a bold red matte. Rihanna's first product for MAC will be an updated version of the popular shade, appropriately titled "RiRi Woo." Working with MAC developers, she wanted her shade to lean towards a blue-red with a more moisturizing retro matte finish than the original.
Photo Courtesy of Rihanna
It's not so easy to rework a classic though, which the singer admits. "Working with MAC, it's difficult to get a red lipstick that beats 'Ruby Woo,' because it works on every skin tone," she said. Adamant to create a product with the same versatility, Rihanna finally settled on a formula that she claims any woman could pull off. We know just how difficult it is to find the right shade of red, so creating one to work for many skin tones is quite a feat, and we admire RiRi for that.
"RiRi Woo" will be released in conjunction with Rihanna's Diamonds Tour, which kicks off May 4 at Brooklyn's Barclays Center. MAC will open a pop-up store on-site to celebrate the event, where Rihanna's lipstick will be sold. Fans will be able to purchase the lipstick at all of her shows and online— and it will subsequently be included with the rest of the line, which will collectively be called "RiRi [Hearts] MAC."
Rihanna's creative input and hands-on participation has resulted in an enticing line that includes Lustre Drops shade, blush duos, lipglass, eye shadow palettes, and false lashes. Considered by the brand as a partner rather than a collaborator, Rihanna's name appears on the packaging with her signature adorning several of the cases. Fall products will come in rose gold packaging, and compacts in pearly white with pink accents will appear for the Holiday collection.
Photo Courtesy of MAC
This is a first for the cosmetics brand, who has never produced more than one collection with the other artists and brands it has worked with. However, MAC seems to be happy with its most recent partnership. "This is a true, organic collaboration based on mutual admiration and respect," said John Demsey, president of Estée Lauder (MAC's parent company.) "These four collections are like four tracks on a Rihanna compilation. Each one has its own vibe, look, special makeup packaging and flavor."
As for Rihanna, artistry is her top priority with any project. "Being creative is something that I love, so I can put that into different outlets. Music happens to be the first thing that I gravitated to, and now music opens doors to just so many different opportunities, and they all tie in. My makeup looks, my fashion looks… they help me to express myself as an artist. I think it helps people to understand me or my mood, my story." Well said, birthday girl, and we hope this year brings only positive, colorful, beautiful things.