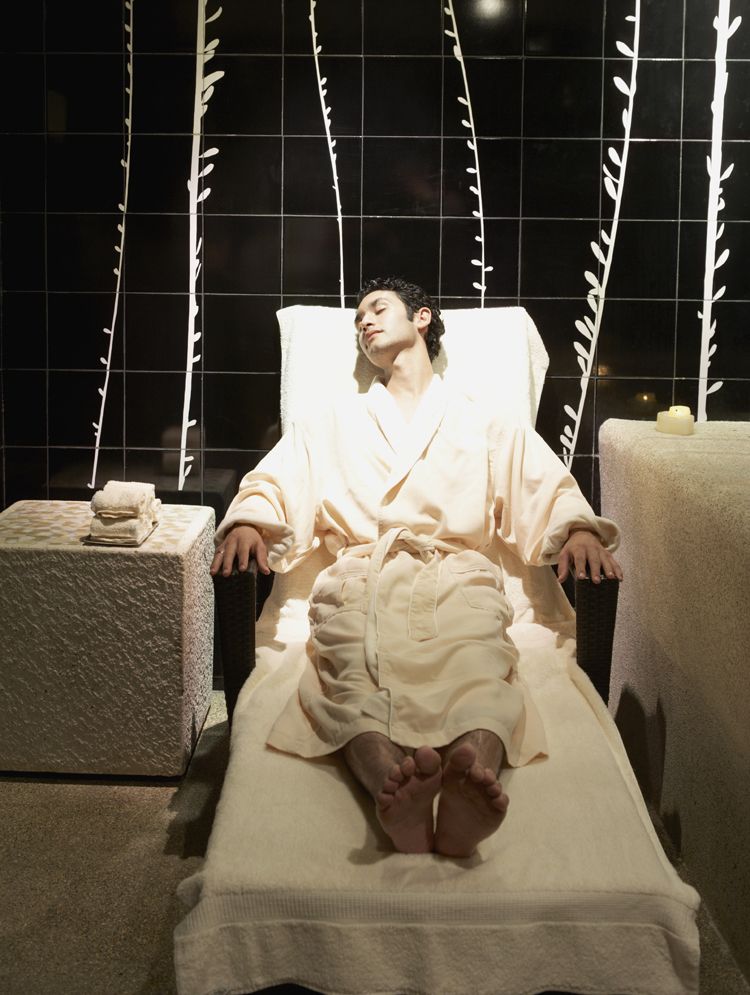 Photos Courtesy of Shutterstock
Spas aren't just for women. They're not filled with pink pillows and the smell of roses, nor are they a place we sit and talk shoes while stuffing our face with bon-bons. We do however, get our skin renewed, firmed, cleansed—occasionally there's chocolate. And while we've begged, pleaded, wheeled and dealed with you, for some reason you refuse to go. Maybe you think you'll come out floral scented or covered in pink glitter polish—either way the whole experience might seem too fluffy for your macho exterior. In actuality, there are spa treatments made just for you. So take off your tool belt, try a few (we won't tell anyone) and
relax.
First let's talk
facials
. Have you ever had any blackheads, acne problems around your beard, or even wrinkles? Facials can help with that. Most will include the basics: cleansing, exfoliation, mask, steam and massage while tailoring extractions and products to your skin type. If you have acne, there's a facial for that. Aging skin? Facial for that. Sun damaged skin? Facial for that. You see the pattern here. Plus you get the added benefit of alleviating stress and walking out with a better complexion—because no amount of rugged, mountain man beard is going to hide your pimples.
Yes,
massages
always seem to conjure up images of Hawaii, flowers in a girl's hair and rocks on her back. There are many spas that offer massages without all the girly decoration—you don't really need it, it just looks pretty. The point of a massage is to relax, loosen up your muscles and take a well-deserved break. Especially if you're working out; massages will help your body rebuild muscle tissue, increase blood flow and help get rid of lactic acid. And those rocks on her back? Hot stones that help with circulation and releasing tension, plus they feel
amazing.
When I say
pedicure
I can already picture half the men reading this shaking their heads in defiance and laughing derisively. Try it, because you'll like it. Men's sports pedicures can help keep your tootsies free of ingrown nails, hangnails, fungus and all the disgusting little things women don't want to see on your feet. In addition to keeping your feet healthy you get a killer leg and foot massage that can do wonders after a long day of bringing home the bacon. You don't need polish (not even clear) so your buddies won't even know you just had a relaxing pedi right before your backyard barbecue.
Back facials
are sort of a blend between a facial and a massage if you will. Guys, you can get back acne, we know it, you know it, but imagine getting rid of it while also getting a soothing rubdown. The effects of back facials can last longer than a regular facial as the area is generally less exposed (then again I don't know what kind of wild life you lead) and doesn't get as oily. This treatment can be a little harder to find, but most male-oriented spas offer it—along with all the other little services I've tried to convince you of.