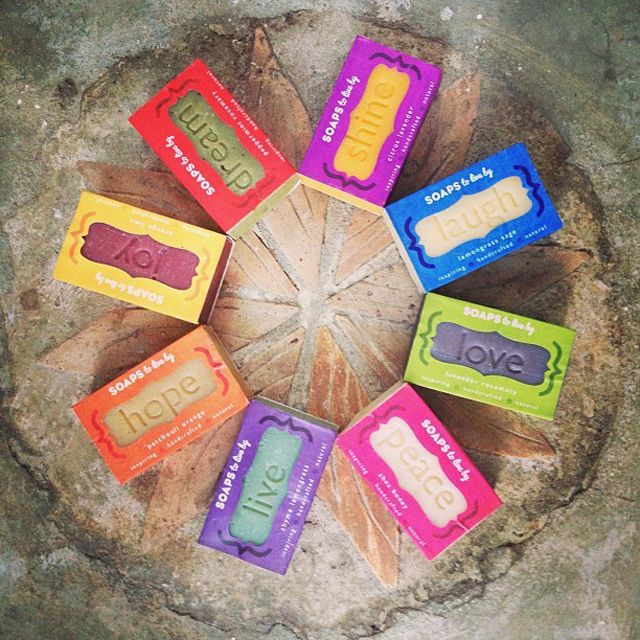 Photos Courtesy of Soaps To Live By
Do you ever need a pick me up in the tub? Maybe you're in there trying to wash away the weight of the day or you're just get started and need a little early morning inspiration? Well instead of listening to your girl-power Katy Perry album on repeat, your soap could be your next source of the deep-down-feel-goods. With a motto of "Smell good, feel good, do good"
Soaps To Live By
is trying to make a difference in the world and your bathtub one bar at a time. Right now, teaming up with JustLuxe, Soaps To Live By is going to be giving away a year's supply of soap for one lucky reader! You'll be ready to switch out your everyday pump for these cute designs when overnight guests arrive—they may not be as adorable as your baby pink soap angels, but they're definitely more inspirational.
While you're probably be thinking that you rarely use bar soap, you're not alone. The drying unpleasant residue left on your skin and overtly "fresh scent" that smells suspiciously like lemon cleaning products is not something I would personally, ever want to touch. While I'm partial to my body washes and fluffy pink loofah, these bar soaps do an amazing job of getting you squeaky clean without the dryness and fake smells. The fragrance is true to its name and citrus lavender
actually
smells like it's supposed to, plus what makes these bar soaps better than the rest is the smooth moisturized feeling they leave behind. Granules in the bar exfoliate your skin leaving it soft even without the trusty loofah.
In their attempts to save your skin from the gross feeling of traditional soap, they thought they'd take a crack at saving the world as well. Every bar is hand-made with USDA organic certified coconut oil and free of chemicals, parabens, synthetic fragrances, alcohol, artificial dyes, sodium laurel sulfate, sodium laureth sulfate and phthalates, because quite frankly, if you can't pronounce it maybe you shouldn't slather it all over your body. Using only sustainable oils, they even go as far as to plant a tree for every bar of soap purchased. And just to be over-the-top eco-friendly, even the box this baby comes in is made of Bio-Stone. The box, label, glue are all made of
rock
. And it's waterproof—just to be fancy.
By now you're probably thinking to yourself "I've heard enough! Where can I get my own super-snazzy year's supply of inspirational soap?" Well, right here. Leave a comment letting us know why you want to win this awesome set and we'll pick a winner at random by September 15, 2013.
Soaps To Live By
Terms & Conditions