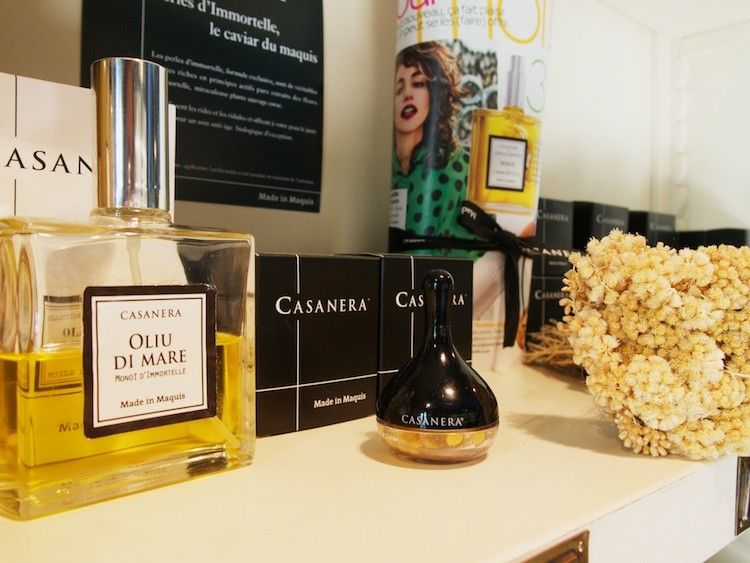 Photos Credited to Columbia Hillen
Dressed casually in jeans and an open plaid shirt, 40-year-old Marie Ceccaldi doesn't seem like your average perfumer. A talented artist and former restaurateur in Provence (L'assiette de Marie in St. Remy), Ceccaldi is now owner of Casanera, a Dickensian-style perfumery in the northwest Corsican resort of Calvi where she was born.
Inside, black-painted walls, a 19th century portrait, low hanging lamps and a pink stone floor creates dramatic visual appeal. An elongated table with side drawers fills the central part of the single-room store with open shelves and glass cases.
Ceccaldi, who makes her own creams, opened the store four years ago and is content with her product offerings, which include eleven different perfumes and a series of seven face and body products; each are based on different plants such as amandula, myrte and especially maquis, the local Corsican vegetation. "I wanted to give my perfumes a distinct Corsica feel so while they are made in Grasse, they are all based on Corsican natural oils," she explained in-between serving customers. "Everything is done by hand and the cosmetics can keep for six months."
Interestingly, one of the most popular products is a cream made with immortelle, a plant that grows locally. "Ingredients in the plant stimulate the natural production of collagen and increases blood circulation in micro vessels," she said. "It is also an antioxidant that repairs free radical damage and stimulates cellular regeneration."
Ceccaldi, who has an 8-year-old son, Batiste, and whose partner, Jean-Baptiste, owns La Signoria Hotel in Calvi, inherited her artistic temperament from her parents. Her father was a traditional Corsican singer and writer, and her mother, a perfumer, who created creams based on natural ingredients in the 1970s. "Making cosmetics is a little like cooking; the ingredients have to be blended so carefully," she said. "I was fortunate in that I learned a lot from my grandmother who was extremely fond of plants and used them in all sorts of different ways."
The perfume store in Calvi is one of six such stores Ceccaldi has established, three others being in Corsica, in Porto Vechio, Bastia and Ajaccio, as well two in mainland France, in San Tropez and Cannes. Other store items include home fragrances, hair products, soaps, candles and jewelry—some using larimar stone.