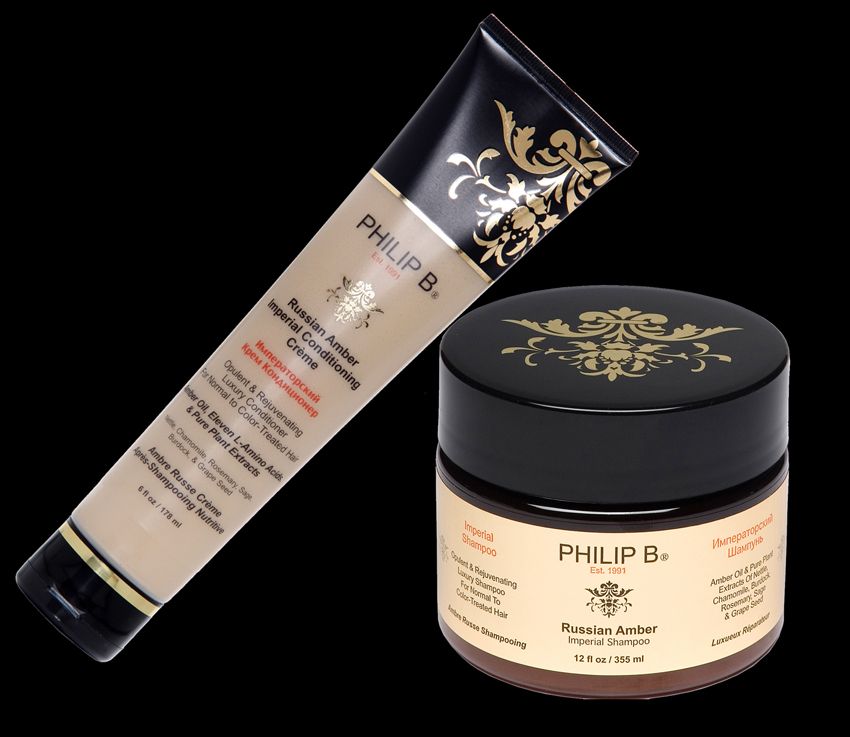 Photo Courtesy of Philip B
If you asked us what our number one beauty wish would be, we wouldn't ask for clump-free mascara, or complexion-clearing skin care or even the perfect red lipstick (that never smudged!), we would ask for amazing hair. Those kind of Pantene locks that smoothly flip over your shoulders, never frizz, even in the worst weather, and fall right back into place after your man brushes his fingers through them—it's the dream. And it always seemed like one of those faraway, never-going-to-happen dreams like the time you lip locked with Zac Efron in your hot air balloon en route to Mars. But we may have finally found something that will get your hair pretty darn close.
Philip B's Russian Amber Imperial Collection is a shampoo and conditioner set that is meant to revitalize and restore all hair types—but it's not like those are promises we haven't heard before—so we did our homework. Testing it out on my curly, thick, frizzy and over-processed hair (it used to be pink—to give you an idea of how damaged it is) there was a lot of work to be done before my strands would feel "revitalized"—or so I thought.
I will confess using the product is a little—odd. The shampoo feels like honey in your hands and isn't as malleable as you need it to be to get it to the root of your hair. But work that gooey shampoo in; the heat and moisture in your hair allow it to suds up slowly, making it seem more like your regular hair care after a minute or so. And unlike normal shampoos you have to let this sit in your hair for a few minutes to work its magic. The conditioner goes on easier and almost instantly makes your hair feel more hydrated—until you rinse it out.
Usually I can tell if deep conditioners, treatments or serums have worked or not just by rinsing my hair—do my fingers catch easily? Is my hair tangled? The shampoo and conditioning crème left my hair feeling dry and frazzled when I got out of the shower, and I had to resist the temptation to load up my locks with my trusty Moroccan oil—it was in the name of science, I told myself. I left my strands to air dry wondering what damage could have been done from one wash and swearing that I would never stray from my trusted hair care products again. But a few hours later I absentmindedly ran my fingers though my hair—all the way through. No knots, no tangles and there was no way my hair was that soft—right?
Except it was. As my hair dried it became smoother, shinier and soft—fluffy bunny soft. Without oils or serums my unruly hair was suddenly transformed into this touchable, manageable, pet-my-hair-it-feels-so-good mane. And while I would recommend this for those with dry, processed or frizzy hair, on fine or oilier strands the moisture would undoubtedly weigh hair down. Even with its miracle-in-a-bottle tendencies it couldn't save my hair from frizzing out in a rainstorm, but then there are very few beauty products that can take on Mother Nature. Despite a little rainy day frizz and a bit of a learning curve, this collection is one of my new favorites.
Philip B's Russian Amber Imperial Collection shampoo and conditioner are available online at Philip B and priced at $140 and $150 respectively .