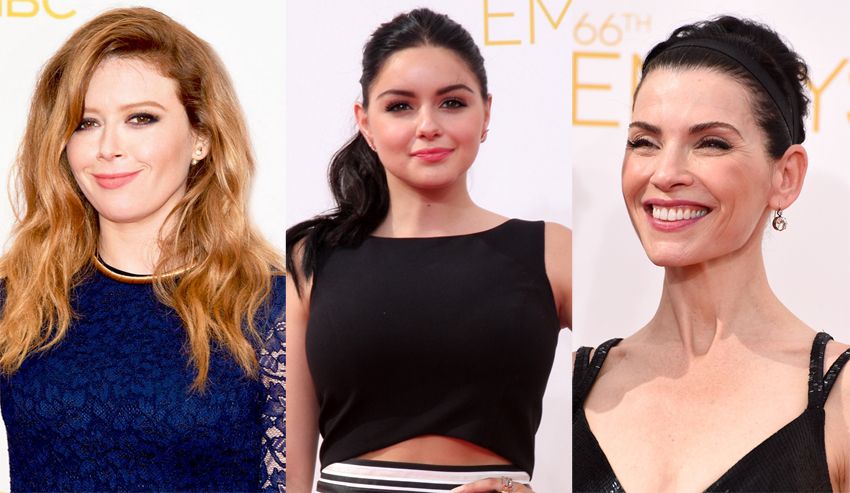 Photo Courtesy of Burt's Bees, Shutterstock, Elizabeth
Since Monday night we've been dreaming of the Emmy's red-carpet styles. Visions of red ball gowns and white dresses dance in our heads, but as we have no plans to attend an award show anytime soon, we were left to find a way to channel those Emmy looks for a more everyday basis. So we ditched the idea of coming into the office in a Prabal Gurung frock and decided to focus on red-carpet beauty. Soft waves and smoky eyes were everywhere, prompting us to speak with some of their celebrity makeup artists and hairstylists to find out exactly how they gave Natasha Lyonne those vampy eyes or Christina Hendricks that luscious red lip—but the first on our personal to-do list is Ariel Winter's voluminous ponytail.
Photo Courtesy of Shutterstock
Ariel Winter, best known for her role as Alex Dunphy on Modern Family, showed up to the Emmys looking absolutely gorgeous for her 16 years in a midriff-baring Black Halo Eve dress and an ultra-chic ponytail. Her hairstylist, Aviva Perea from Starworks Artists, gave us a how-to on this youthful look. "With a high collared dress, we knew her hair had to be up but didn't want it to be too stuffy," Perea explains. Starting with damp hair, Perea prepped Winter's strands with texturizing mousse before giving it a rough dry, using just her fingers and focusing on the roots for optimal volume. Grabbing one inch sections she then wrapped each piece around the T3 SinglePass Whirl Trio Interchangeable Styling Iron, alternating directions with each section, making sure to curl away from the face at the hairline. Starting at the cheekbones, Perea gathered her hair back into a ponytail securing it with an elastic before wrapping a small strand around to hide the tie, securing it with a bobby pin. She finished with a texturizing spray and teased it with a wide-tooth comb for more volume, locking it all in with a blast of hairspray.
We adored Emmy Nominee Natasha Lyonne's sultry bombshell look and had to know how to get those perfect peepers, so Burt's Bees' lead makeup artist, Katey Denno, explained exactly what she used to give Lyonne those bedroom eyes. "I started with a light layer of Vapour Organic Beauty Foundation as a base. Then, we went with a vampy eye look, using lots of black and gray shadows from Kjaer Weiss just on her lid and lash lines, and finished with lots of lashes, topped with W3LL People Mascara," says Denno. "To round out the eye look, I overdrew her brows slightly, and filled them in with a medium-warm taupe powder." Adding a light contour to her face, Denno also added a touch of coral shade to the apples of her cheeks to keep her from looking too washed out. "And last but certainly not least, the overdrawn Bardot-esqsue mouth finished the look. I used Burt's Bees new Lip Crayon in Niagara Overlook, topped with a Burt's Bees Tinted Lip Balm in Pink Blossom. This gave her a sultry, intensified, but not over-the-top lip; it's like her lips, but better. Gorgeous!"
Photo Courtesy of Shutterstock
Emmy-winning actress Anna Gunn may have taken home an award Monday night for her work in Breaking Bad, but statue or not we loved that free flowing mane of hers. Aviva Perera worked on this award-winning look as well, giving Gunn full waves that looked soft and romantic. To get Gunn's style, damp hair was prepped with volumizing spray and dried completely with the T3 Featherweight Luxe 2i dryer. Next Perera took one inch sections and wrapped them around a 1.5 inch barrel, alternating directions as she went, pulling down lightly each time to create a looser wave. Using a rat tail comb she teased the hair around the crown before smoothing out the top and gave it of a spritz of hairspray and texturizing spray to finish it off.
Photo Courtesy of Elizabeth Arden
Outstanding Lead Actress winner Juliana Margulies' fresh, youthful face stood out on the red carpet, looking more radiant than a few of the 20-something actresses we saw at the Emmys. Celebrity makeup artist Molly Stern for Elizabeth Arden made over Margulies, and gave us a step by step how–to for the look. "It doesn't get any better than being on Julianna Margulies' glam team. Getting her ready for an award show has the spirit all the hair and makeup lovers out there would wish for," Stern explained. Prepping the skin is a must-do for a fresh face and Stern used PREVAGE Anti-aging Daily Serum and Moisture Cream with SPF 30. "I sparingly applied foundation, and to contour and boost the definition of Julianna's already exquisitely chiseled face, I applied Flawless Finish Sponge-On Cream Makeup in Cocoa to the hollows of her cheek blending upward. Then I applied cream blush just to the apples to add a subtle glow of warmth." For dreamy eyes a soft hand is key. "I dabbed on a touch of a platinum cream eye shadow and then pressed in a matte milk color shade of shadow so that the metallic shown through, but very subtly. I heavily and sharply lined the outside of her lashline with black eyeliner. Then to softly diffuse the edges I dusted eye shadow on top of the black line. On her lower lashline I very tightly and softly lined with the black liner using a clean, small brush, and finished with two coats of mascara to the upper and lower lashes," she says. "To create a bright berry stain, I mixed two Elizabeth Arden Beautiful Color Moisturizing Lipsticks, Fig and Ultra Violet. I pressed the color pigment into the center of the top and bottom lip and then using my finger, I filled in the rest of the lips only using what I had started with, not adding more color. This keeps the lips looking full and the lip line soft."
Outstanding Supporting Actress in a Drama Series Nominee Christina Hendricks is the epitome of a Hollywood starlet—with a gorgeous red mane, beautiful face and curves that would make Jessica Rabbit jealous, she's one of the most enviable women on the red-carpet. And as they say: If you can't beat them, join them. Makeup artist, Vanessa Scali gave Hendricks a smoky, glowing complexion with a bold red lip that stood out even against her crimson gown. "Christina has the most beautiful alabaster skin, so I always use foundation and concealer sparingly on her," says Scali, using a Pür Minerals foundation and concealer to smooth out any imperfections. Using a cream blush on the apples of her cheeks and a light dusting of power in her T-zone, Scali added luminizer to her brow bones, cheekbones, and the bridge of her nose to bring structure and glow to her face. "Using the warm, shimmery bronze in the Pür Minerals Jetsetter Eye Shadow Trio, I swept the color all over the lid and under the bottom lashes, blending to sheer at the crease and extending outward to elongate the eye. The sheer wash of color enhances the eye in a soft, sultry way," she explains. After lining the eyes and brushing on a few coats of mascara, Scali adds lip color to the center of Hendricks' lips blending outward with her fingers and finishes the look with a swipe of lip gloss.