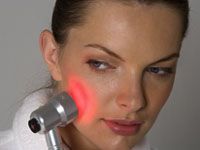 Health & Beauty:
As a jet-setter, business owner and a mother of two, there is precious little time to spend on my beauty regimen. Spa days replete with luxurious facials have become few and far between of late, which is why I'm particularly excited about the retail consumer launch of the
Baby Quasar
. This at-home "photo rejuvenation anti-aging and acne skincare system" - i.e., light therapy device - nothing short of promises my facial skin will look flawless and fabulous at all times even without a doting Aesthetician.
The first professional-grade light therapy device made available to home users, Baby Quasar is also the only one on the market today that uses four wavelengths of natural light to help reverse the signs of aging, shrink enlarged pores, and rid my skin of any possible breakouts. For my part, so far so good! And, despite all of the power this "baby" packs, the Baby Quasar is surprisingly small and lightweight, so it's extremely easy to use and store.
As for the functionality involved, Baby Quasar uses red and infrared light as part of "SequePulse" Technology, which research has shown to firm and tone the skin, diminish fine lines, increase circulation, reduce inflammation, clear acne, and stimulate the production of collagen. This dermatologists-tested product comes with numerous recommendations from leading sources in the field, which is always a good thing-especially when it comes to your face!
The beauty of this product is that I did not experience any pain nor did I have to live with the red skin that can result from other facial treatments. Even better is that it takes just under a half an hour to treat the entire face. After using this wonderfully non-invasive device for just a few weeks, I could feel and see an improvement in my skin.
While any face lotion apparently works with the Baby Quasar, Pure Silk serum, appropriate for all skin types, is what the company recommends. Pure Silk is a copper peptide/CoQ10 gel with 10% Hyaluronic Acid. Like the Baby Quasar, it helps to increase collagen, firm and hydrate the skin, remove the appearance of fine lines, and repair photo damaged skin. I use just a drop of the Pure Silk serum on my forehead, chin, and cheeks before I use the Baby Quasar to boost results. A small sample is included with each Baby Quasar, with full bottles available for $60.00.
Interestingly, Quasar Light Therapy also offers a full body Capsule that can be found in spas and in the homes of luxe-lifers who can swing the $25,000 price tag. The capsule looks like a tanning bed but it works to stimulate circulation and collagen formation across your entire body. The light penetrates the body deeply, and can ultimately relieve pain, speed up healing and increase collagen for stronger muscles and firmer skin. It can also speed up the recovery from sprains, strains, bruising and wounds - purported to cut healing time in half.
As for the Baby Quasar, consumers may find it in select retail outlets, including Dillard's department stores, at a retail price around $450. More information may be gleaned online at
www.BabyQuasar.com
. I definitely recommend you pick one up. Your skin will glow with thankfulness.
The Luxe List product review editor Merilee Kern scours the luxury goods marketplace for new and innovative must haves. Product submissions accepted via e-mail at Merilee@JustLuxe.com.
- Merilee Kern
JustLuxé.com's "The Luxe List" Product Review Editor