JustLuxe View Profile

Editorial Staff
Nick Arrojo Shows Off His Roots
Jun. 3rd, 2009 | Comments 0 | Make a Comment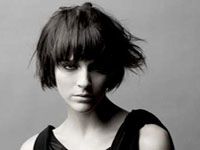 Health & Beauty:
Nick Arrojo knows hair -- down to every last root. The Manchester-born hair guru started out as a stylist for Vidal Sassoon and Bumble & Bumble before starting his own eponymous studio in 2001. Now with the launch of his own product line, the prodigious stylist has firmly established his own empire. Arrojo chatted with JC Report about the growth of his business, hot trends in hair care and what he thinks about celebrity clients.
JC Report: How and why did you start doing hair?

Nick Arrojo: Academia didn't interest me so I left school at 16. I needed a job-and money-to enjoy those teenage years. My biggest influences as a teenager were music and fashion. Since hairdressers have the opportunity to be creatively involved in the fashion industry and hair salons have music blasting all day I thought being a hair stylist would be just the ticket. Once I started, the creative energy, the socializing and the chance to build a lasting and prosperous career hooked me. I vowed to be the best I could possibly be.

JCR: You run a relatively young company, but you already have several layers to your business-tell us the different aspects that make up your world?

NA: The company began in 2001 as ARROJO studio-a six chair hair salon with five members of staff. Now the studio is a 40-chair salon with more than 30 stylists and 25 assistants at various stages of a comprehensive 22-month training program that leads to becoming a stylist on our salon floor. We service between 650 and 800 clients each week. The emphasis is on world-class hair and makeup services, and world-class standards of customer service.

The initial success of the company meant we launched ARROJO education in 2003. Here the emphasis is on providing advanced, inspirational and career-shaping education to licensed professionals across the country. We have our own advanced academy where we facilitate eight separate seminars (typically one seminar per month), we go out on the road as a main-stage, classroom and trade booth educational attraction at national hair and beauty shows, and we have a ten-strong collection of DVDs, presented by our master stylists, that empower all hairdressers to take home techniques that will enable them to master their craft.

In 2007 we launched ARROJO product. The concept was to create hair care products that matched our own professional standard of luxury and performance, yet would be available to all. ARROJO product is available from ARROJO studio and arrojoproduct.com. The line includes 20 hair care products, ARROJO signature styling brushes and a new range of skincare products, which have been developed to make us a more rounded lifestyle brand, rather than hair care only.

With fantastic growth visible across all these companies we expanded our flagship facility to 13,000-square-feet and, in 2009, opened the ARROJO cosmetology school housed within this space. This is a boutique-style school that teaches all State Board requirements, alongside the advanced, world-renowned, ARROJO techniques that have come to define our modern and creative, precision-based method of hairdressing. The goal is to raise standards in cosmetology education and give each student a platform for success whether they want to work in the salon, in education or in editorial and fashion-related work. Simply put, our curriculum goes far beyond State Board techniques and provides the most advanced, creative and comprehensive cosmetology course available.

These four facets of our business are now housed under the ARROJO umbrella.

JCR: Why move so fast?

NA: I believe you are either growing or you're not, and I want to grow. Also, the development of the business has never been forced. The studio's performance meant that educating others in our method was a natural progression. Then, the recognition of the ARROJO name gave us the opportunity to launch a product line, and then, the respect our advanced education gained put us in prime position to open a cosmetology school. As a company, we have seized the moment.

JCR: You are on a television show called What Not To Wear. How has this impacted your business?

NA: TV exposure is a great help, of course, but the name on the door, and on the product, is ARROJO, not Nick Arrojo. My goal is to build a successful brand, not just a successful me. Therefore, any fame or notoriety I get from the show is re-directed into making the overall business more successful. As an example, I may get a new client because she's seen me on the show. But after her first appointment with me I will encourage and advise her to see one of my younger stylists (typically a graduate from our in-house training program). It gives my young stylist an extra client and it gives my business an extra client, too. Most new salon clients will only come to see me once due to my price-point, whereas the younger stylist has a more affordable price-point, which means the client can keep coming back, and still get that slice of Nick, because I have trained the stylist.

JCR: Who are your beauty business role models?

NA: Marcia Kilgore, founder of the Bliss brand. Horst Rechelbacher, founder of the Aveda brand. Michael Gordon, founder of the Bumble & Bumble brand.

JCR: What are the most important movements (both commercially and aesthetically) in beauty and hair care at the moment?

NA: Commercially, there is a growing trend for hair treatment products such as deep conditioners and oxygen masks-we're releasing our own oxygen hair mask in 2010, and our hair repair masque is one of our most popular products. People are realizing that with things like applied salon color, lots of hot tool styling and even the great outdoors, the net result is damage to the tresses, which makes hair harder to manage and style. Treatment products are designed to give the hair intensive replenishment by restoring essential vitamins, minerals, and proteins. They improve the health of the hair, the shine and luster and the style-ability. These multi-benefits are making treatments the hot ticket in hair care.

Aesthetically, the trend is toward loose, beatnik elegance. Think young and carefree bohemian style in terms of hair this translates into loose and lived-in, natural hair texture. So rather than trying to make all hair super straight, we're playing into the natural movement-the wave and the curl-in each person's hair to make it playful and flirty, perfectly imperfect. Hair right now is rugged, shaggy, loose.

JCR: Do you make a conscious effort to not do celebrities' hair? Why?

NA: No. But I don't seek out celebrities either. To me every client is just as important as the next one and the last one; there is no favoritism for celebrities or anyone else.

JCR: What's the best summer haircare advice you can give both men and women?

NA: If you want great hair style, get a great haircut. Hair that has been cut well has a strong technical foundation, and that means it will last longer, grow out better and be easier to style each day. A great haircut will allow you to simply "wash and wear" your hair with no fuss and still look fabulous.

Jason Campbell
Editor-in-Chief JC Report
JustLuxe Contributor
Finding the best in luxury can be a daunting task, which is why we've taken it on for you.