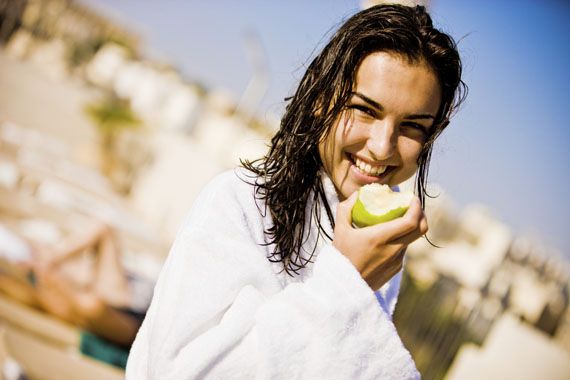 Health & Beauty: The latest in anti-aging works from the inside out. San Diego based Optimal Nutrition Inc's president Michelle Weinstein is teaching people how to look good, feel good and stay that way by changing the way you eat.
Based on the theory that eating right can be a powerful anti-aging agent, Optimal Nutrition delivers a perfectly balanced diet, designed to help you look and feel better. Even better, Optimal Nutrition takes the diet a step further by also having an anti-aging component.
In the interview below, Michelle gives JustLuxe an exclusive look at the development of
Optimal Nutrition
.
1. Can you briefly describe your background in health?
I have always had a passion for health and fitness. Growing up, I was an athlete in high school playing basketball and running track. In college, I played on the club lacrosse team and just really enjoyed the gym! After I graduated college and moved to Seattle, I started my own boot camp at Union Bay in downtown Seattle. It was then that I quickly realized what an important role nutrition played in my life.

2. How did you first become interested in health and beauty?
I think women are innately interested in health and beauty. What woman wouldn't want to be beautiful? As a child, I was always into shopping and being active. I studied Karate/Martial arts and was a figure skater, which I still pursue today. Moving to California definitely put an emphasis on beauty as we have such nice weather. I have always believed that inner beauty is just as important as the outer beauty. That is where nutrition plays a large roll.

3. How does what you eat affect how you look as you age?
Statistics clearly show that diet accounts for 70-80% of what our body looks and feels like. In addition, what you intake through proper nutrition has a direct reflection on your skin as well

4. What are some of your favorite healthy foods?
I love Greek yogurt, agave nectar, and fruit for breakfast. I also love our 91 Bars. I'm always on the go and favorite healthy foods are sometimes hard to find.

5. How did you develop the Optimal Nutrition program?
Before Optimal Nutrition Inc., I was working as a financial analyst for an accounting/financial firm with a rigorous schedule. I still made time to work out, but I found myself struggling to eat right. I didn't have the time to cook healthy, but I wanted to eat healthy. That is when I decided to integrate my business background with my passion for health and fitness. With that I launched my company, Optimal Nutrition Inc., in August 2006. I was always into fitness and working out. I found the hardest part was eating right. About 70% -80% of what you look like, feel like, etc. is the food, or fuel, that your body consumes. Optimal Nutrition is in the fuel business. I find it very important to have proper fuel to work at your peak levels physically and mentally.

6. Diets can be time consuming, how can people easily incorporate Optimal Nutrition into their daily lives?
Our organic meal service can easily be integrated into any lifestyle. Everything can be ordered online or you can set up your meal plan with an Optimal Nutrition representative. We all know that cooking is time-consuming, especially cooking healthy and organic! Optimal Nutrition takes the hard work out of cooking and saves you a lot of time by delivering healthy, organic meals to your front door! We offer over 300 meal varieties so you never get tired of eating the same thing.

7. Can you share any success stories?
The best success story of a client was someone who had to lose weight in order to do a bike ride from San Francisco to San Diego. This person worked so hard cycling, lifting weights, and now eating right. Through proper exercise and diet, they were able to successfully finish the ride. In addition, there are many more real success stories that can be found at: OptimalNutritionInc.com

8. Do you have any celebrity fans and can you discuss them?
Optimal Nutrition clients include former NFL star Marshall Faulk, as well as various athletes and celebrities from the Padres, Chargers, Raiders, Jets, and Seahawks. In addition, a few Playboy playmates, actors and actresses.

9. Is there anything else about Optimal Nutrition that makes it unique?
Optimal Nutrition was recently recognized in The Green 35 Under 35 by SDNN. We were distinguished for our organic and green practices. Because we customize every meal to an individual's BMR (Basal Metabolic Rate), there's never any food waste. Furthermore I recognize the repercussions of eating over processed and chemically enhanced diet foods. That is why Optimal Nutrition only uses ingredients sourced from the freshest and finest organic farms and manufacturers, which contain no additives or GMO (genetically modified organism) food items.